100 Central Condos, 100 Central, Sarasota, Florida, 34236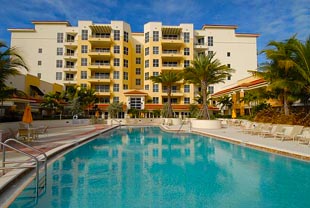 The 100 Central Condominiums in Sarasota, Florida is a fairly new community situated along vibrant Central Avenue, brimming with a multitude of lifestyle options. It won't take more than a quick search of the Sarasota condos for sale to find a unit in this conveniently close to everything neighborhood that appeals to the wants and needs of almost everyone's standard of living.
The common amenities available to the residents include a heated, rooftop pool as well as a contemporary fitness center. For a reasonable fee, stylish guest suites are available for the use of resident's visitors. More outdoor type recreation can be explored with a short trip to the world class golf courses of Prestancia, where diverse memberships are available at attractive rates.
A beautiful eclectic mix of restaurants, shops, cafes, and boutiques are generously sprinkled around this downtown Sarasota condominium complex. The shopping, dining, along with fine arts and culture centers like the Sarasota Opera House and the GWIZ Museum are also easily accessible in the downtown Sarasota area. One point of interest here is the South Lido County Park where there are picnic groves, fishing spots, and plenty of opportunities for many water-based activities like boating, sailing, and diving.
The expansive field of lifestyle options grows larger with a quick drive to St. Armands Circle. Accessible via the Ringling Causeway, this distinctive retail mecca boasts more than 130 shops and numerous scintillating dining venues like Hemingway's, to name one. Regular events in the in the center of St. Armands, are produced by the St. Armands Circle Association. Nearby at the Lido Key area you will find stimulating beach activities, stellar resorts, and other water based activities are all just a few minutes away from the condos for sale at 100 Central.
This condominium complex was constructed in 2005 and the units very attractively priced. The 100 Central condos for sale are composed of a total of 95 units. Here a 2 bedroom, 2 bath residence can display a listed price in the low $400,000 range and boast a floor plan of around 1,100 square feet. Price points for a well appointed condo with a 2 car garage, 2 elegant bedrooms, and 2 baths with well over 1,500 square feet of floor space can rise to the $700,000 level. The luxury penthouses at 100 Central will command premium pricing hovering in the $1 million area.
100 Central condos for sale in Sarasota are some of the finest among the currently available choices in the Sarasota real estate market. It's the premium location combined with the incredible architectural treatments that makes 100 Central a excellent choice for owning a secondary or even a primary condominium dwelling.
Christina Miller is a Sarasota real estate broker who comes from a large family of Real Estate professionals. Her mother is a Broker-Owner in Breckenridge Colorado, her father is a custom home builder, and he Grandfather started one of the largest title companies in the State of Colorado. Not dealing well with the cold, Christina moved to Florida and is now specializing in Sarasota homes for sale and Sarasota condos for sale.