Alinari Condos, 800 North Tamiami Trail, Sarasota, Florida, 34236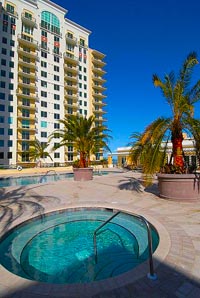 Alinari Condos with its 205 stunning residences has been at its same 800 North Tamiami Trail address in greater downtown Sarasota since it's completion in 2007. This Sarasota real estate development is ideal for those who revel at being a part of this city's pulsating culture and fine art scene. The Alinari at Rosemary Place condos for sale are located next to some of the most celebrated theaters and museums in Sarasota. Even though the units in this striking complex are recognized as modestly priced, the long list of amenities are considered top shelf in the Sarasota condos for sale price points.
Being situated very close to the highly acclaimed Boulevard of the Arts, residents of the Alinari can effortlessly reach the nearby prestigious Van Wezel Performing Arts Hall. Having hosted diverse productions for over 35 years, this Sarasota landmark first opened its doors in 1970. This stately theater can hold approximately 1,736 visitors and boasts a bayfront lawn, ornately designed terrace, greenroom and a founder's lounge.
Located just a couple of minutes from the condos for sale at Alinari is the renowned Ringling Museum of Art. In 1931 this iconic museum opened its doors for the first time and the 20 acre bayfront property, in addition to the art collections resting in its numerous galleries, was generously endowed in 1936 by John Ringling to the populace of Florida. Among the vast collection displayed in the Ringling Museum are a few rare pieces by Poussin and Peter Paul Rubens.
If the great outdoors better fits your lifestyle, Alinari is only a quick drive to St. Armands Circle near the world famous beaches at Siesta, Lido, and Longboat Keys where soothing surf and sand combine to relieve a few of life's daily stresses. Also not far from the Alinari's doors is Selby Botanical Gardens and its vast collection of rare plant species and orchid varieties that's always on display.
A resort like lifestyle waits within the developments premises as Alinari offers a resort type swimming pool near a picnic and BBQ area. Also available is a private theater, completely equipped fitness center, business center, catered club and billiard rooms and much more. Visiting guests to Sarasota have, for a reasonable fee, totally access to furnished accommodations.
Most Alinari condos for sale have expansive views of beautiful Sarasota Bay as well as of the Gulf of Mexico. These 1, 2, and 3 bedroom units vary from 1,070 to 2,060 square feet in size and priced from around $300,000 to sometimes over $1 million. You can find a few penthouse units boasting 2 level floor plans along with garden and terrace lofts and every one of the 205 units at Alinari has private balconies.
Christina Miller is a Sarasota real estate broker who comes from a large family of Real Estate professionals. Her mother is a Broker-Owner in Breckenridge Colorado, her father is a custom home builder, and he Grandfather started one of the largest title companies in the State of Colorado. Not dealing well with the cold, Christina moved to Florida and is now specializing in Sarasota homes for sale and Sarasota condos for sale.