Florida is the most southern state within the continental United States. It is located in the Southeastern part of the United States and is bordered to the north by Georgia and Alabama. To the east Florida is boardered by the Atlantic Ocean, to the west by the Gulf of Mexico and to the south by the Straits of Florida and the Caribbean. Florida has a warm sub-tropical climate with summer temperatures averaging in the 90's and winter temperatures in the upper 40's and 50's.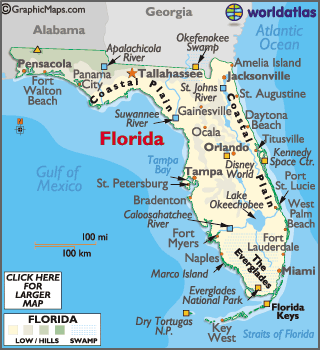 THINKING OF MOVING TO FLORIDA?
If you are thinking of moving to Florida then you are making the right choice. In Florida there is always something exciting to do. Florida also lives up to the name of one of its slogans "fun in the sun."
Florida has one of the most diverse population in the United States with people from around the globe (it's like one big melting pot). Almost everyone loves visiting or moving to Florida for its beautiful weather and "caribbean flavor."
Another good reason to move to Florida is the fact that where ever you choose to live you have access to some of the most beautiful beaches. Look at the map, it shows that no matter where you live in Florida you have access to the beautiful ocean within a short amount of time.
WHERE CAN YOU GET MORE INFORMATION ABOUT FLORIDA?
Click on the following link to get information on all the fabulous places and attractions that Florida has to offer courtesy of "PlacesAroundFlorida.com": http://www.placesaroundflorida.com/
HOW DO YOU FIND A REALTOR TO HELP WITH YOUR BUYING OR RENTAL NEEDS IN FLORIDA?
That is easy. Contact Kathleen McCoy at Keller Williams Partners Realty at 954-632-3312 or via email at kmccoy2@ymail.com. I will take care of all your real estate needs. Also, depending on where you would like to live or rent in Florida, I can refer you to other top Keller Williams Realty agents located throughhout Florida. Moving can be very stressful, especially when moving to another state or country. I will ensure that the real estate part of your move is a smooth and pleasant experience. I can assist you with any type of real estate transactions: rentals, vacation homes/rentals, buying, selling, short sale etc.