"Take another road to a higher place" Jimmy Buffett. It was one of calmest days
in the Gorge when we decided to take a favorite drive over Dalles Mountain Road and have a picnic. Just past The Dalles Bridge into Washington, Dalles Mountain Road climbs up over the Klickitat Hills unveiling some of the best views of the area you will ever see. There are sweeping river and mountain views but also many scenic old abandoned farmhouses. We have often picniced at the Centerville School grounds with the large lawn for strolling next to the tiny antique church. Today we stopped by but had chosen another spot to picnic.
We saw more and more windmills in that Goldendale/Centerville area of Washington, many right down to the houses and the roads. We made the loop from Dalles Mountain Road through Centerville and onto 97, then down to Highway 14, past Maryhill Museum (more on that next week - it's time for the Art Festival there!) and stopped in at Maryhill Winery. There was a gentle breeze on the patio so we pulled out the picnic and had a bottle of rose' in the latticed shade. The amphitheatre was quiet then but was really jumping last Saturday night for the Yes and Styx concert so I've included pics of both.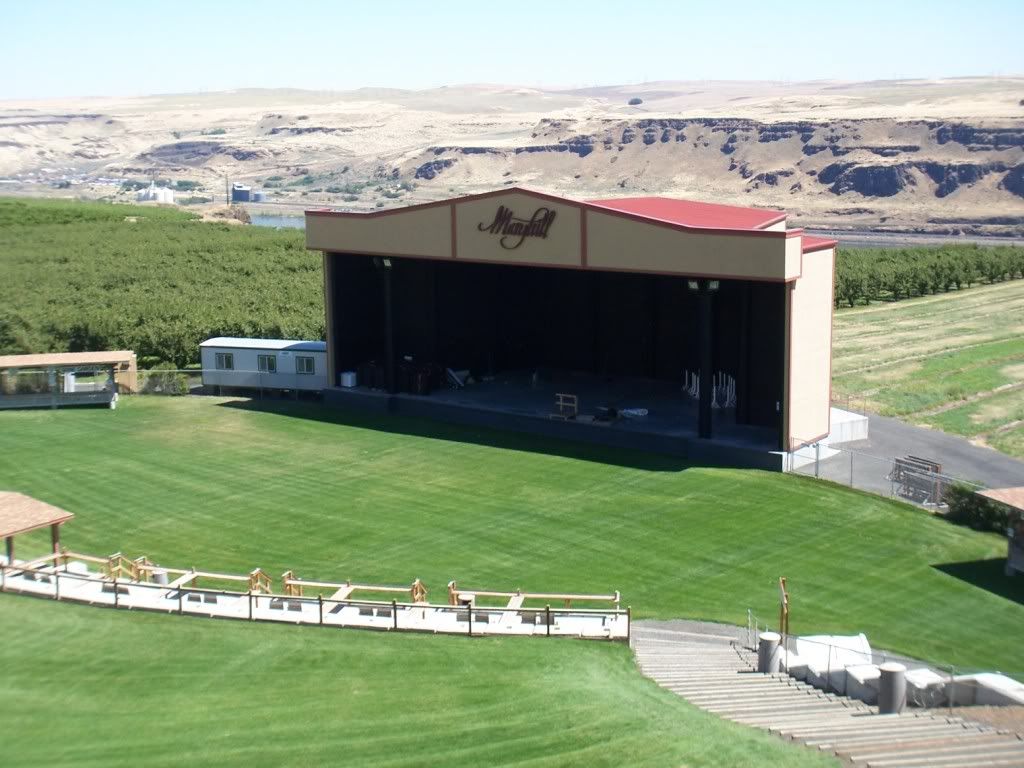 We drove back to The Dalles along Hwy 14, past Avery Island and some
great views of Mt. Hood, then over the bridge back to Oregon! It is a beautiful drive, give it a try!
Colleen

Not familiar with The Dalles? The Dalles, Oregon is a small rural town steeped in history, 80 miles East of Portland in the Columbia River Gorge. It has been a meeting place for native tribes of the Northwest for over 10,000 years. Lewis & Clark camped here and it is on the Oregon Trail. The Dalles sits right on the Columbia River, the border between Oregon and Washington, 20 miles East of Hood River, one of the windsurfing/kiteboarding capitals of the world. We're one to 3 hours away from mountain climbing on Mt. Hood, white-water rafting on the Deschutes River, shopping and dining in Portland or walking the Pacific Coast Beaches. Google has a large data center here, next to the
Columbia River to access its cooling water supply. Real Estate in The Dalles is scenic and varied. There are lots of wonderful, affordable homes for sale in The Dalles, contact me for info - and join us on Facebook at Colleen Bergsma Real Estate!