The following was published in the Daily Breeze and offers up a menu of activites in the South Bay today. The full article can be read at : http://www.dailybreeze.com/lifeandculture/ci_18601209
Today, Sunday:
Undercover Girls Free Concert: Bring blankets, picnic baskets and lawn chairs for a concert 4-6 p.m. Sunday, Columbia Park, 4045 W. 190th St., Torrance. Featured band is The Undercover Girls, a five-piece all-female classic rock tribute band.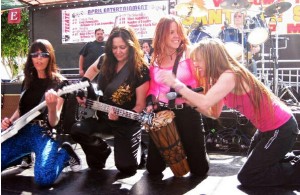 Norman Foote: Musician, songwriter and comedian displays his props and off-beat sense of humor in a children's concert, 4:30 p.m. Sunday, in the upper event meadow of the South Coast Botanic Garden, 26300 Crenshaw Blvd., Palos Verdes Peninsula; tickets $10/$8; 310-541-5819; www.bubblerock.com/concerts. Map of gardens
Concerts in the Park: The Cultural Arts Division of the Manhattan Beach Parks and Recreation Department presents Time Bomb, a rock band, 5-7 p.m. Sunday, Polliwog Park amphitheater, 1601 Manhattan Beach Blvd.; free; 310-802-5406.
DURING THE WEEK
Monday Night Jazz and Art Series: Southbay Pavilion presents the Al Williams Jazz Society along with art exhibits, 7 p.m. Monday, 20700 Avalon Blvd., Carson; free; 310-366-6629.
Colortec Salon Art Gallery: Works by Peninsula artists, on view through Sept. 12. Hours, 9 a.m.-8 p.m. Tuesday-Saturday; 24247 Hawthorne Blvd., Torrance, 310-373-6717.
Cruise Night at Johnny Rockets: Bring your classic vehicle for preferred parking, starting at 4 p.m. Wednesday, 1550-C Rosecrans Ave., Manhattan Beach; 310-536-9464.
Grease: Curtains Up! presents the Tony Award-winning musical set in the 1950s, featuring songs such as "Greased Lightnin'," "Summer Nights" and "Beauty School Drop Out," 7 p.m. Thursday, Aug. 12 and 13, 2 p.m. Aug. 13 and 14, Palos Verdes High School, 650 Palos Verdes Drive West, Palos Verdes Estates; tickets $15/$20; 310-750-6429; tickets@curtainsupshows.org.
Cocerts at the Fountain: The Port of Los Angeles'summer outdoor concert series, 7-9 p.m. Thursdays through Sept. 8; this week featuring L-360, a two-man variety group, Gateway Plaza Fanfare Fountain, Harbor Boulevard and Swinford Street, just south of the Vincent Thomas Bridge, San Pedro. (Concerts will not be held on San Pedro's First Thursdays: Sept. 1.)
First Thursday Artwalk: Visit downtown San Pedro's art galleries, restaurants and shops, and enjoy entertainment. Most of the participants are on Fourth Street to Seventh Street, and from Pacific Avenue to Palos Verdes Street in San Pedro. 5:30-10 p.m. the first Thursday of the month. Go to www.1stthursday.com. A guided artwalk tour is also available starting at 6:30 p.m. from the San Pedro Chamber of Commerce at 390 W. Seventh St.