The South Coast Botanical Garden is one of the best kept secrets of the South Bay and is a real hidden gem. I have met many people who live in the South Bay who have never visited the Gardens. Its gardens include the Water-wise Garden, Herb Garden, English Rose Garden, and Garden of the Senses. A small lake and stream bed attract various birds The park consists of 87 acres of a former County landfill site and is located off of Crenshaw Blvd in the City of Rolling Hills Estates and is just north of Palos Verdes Drive north. The following is the history of the Botanical Gardens as publlished on the Botanical Gardens website:
"Unique from the start, South Coast Botanic Garden is one of the world's first botanical gardens to be developed over a sanitary landfill. The Garden is a masterpiece of creative land reclamation and environment improvement for all to share. It is a living testimonial to the fact that land reclamation not only offers a practical solution to refuse disposal problems, but also beautifies and improves land values at the same time. The Garden has become a beautiful and restorative urban oasis among the hustle and bustle of a major mega-metropolitan area."
"It's amazing to think that at one point in time the South Coast Botanic Garden was covered by the Pacific Ocean. In the ocean were vast populations of single cell algae called diatoms. As the diatoms died they settled to the floor of the ocean and collected, leaving behind a sediment known as crude diatomite or diatomaceous earth. It has myriad industrial uses, such as for filtration and as an insulating or strengthening component in building materials.
During the early 1900's the Dicalite Company began mining diatomaceous earth, but at this time it was mostly surface mining. By 1929, open-pit mining was being pursued. In 1944 the mine was sold to the Great Lakes Carbon Company and mining began in earnest."
"By 1956, production of the mine declined and the site was sold to the County of Los Angeles. From the very beginning, the county planned to utilize the best possible technology and to reclaim the land for future use. In the meantime, the site was used as a sanitary landfill to help meet the County's growing landfill needs.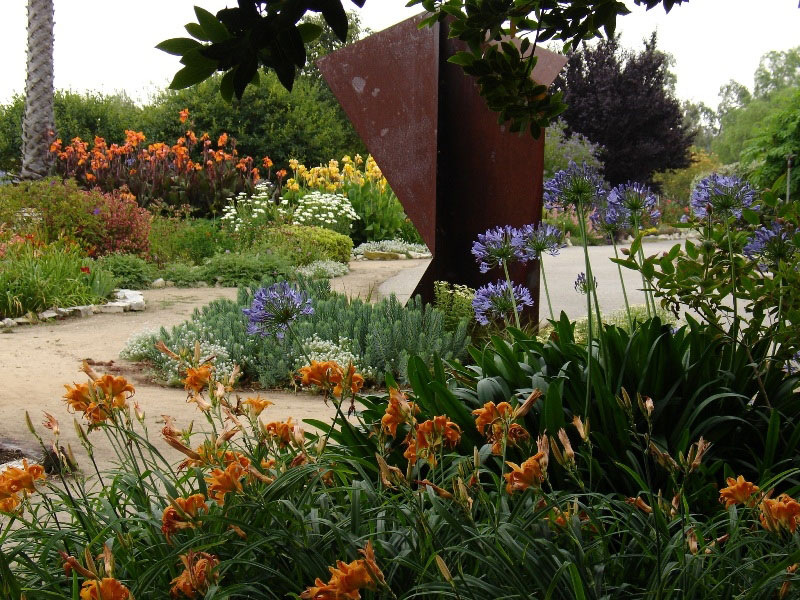 In 1961, private citizens, headed by Frances Young, prevailed upon the County Board of Supervisors to convert this site into a botanic garden. It was an exciting experiment in sanitary landfill reclamation. In April 1961, the first major planting took place with over 40,000 donated trees, shrubs and other plants. Since then, our plant collection has significantly increased to more than 200,000 plants."
The Botanical Gardens hosts a series of summer concerts each year.
ADDRESS:
26300 Crenshaw Boulevard
Palos Verdes Peninsula, California 90274
(310) 544-1948
HOURS:
The Garden is open to the public 364 days a year and closed Christmas Day.
GARDEN HOURS:
9:00 AM to 5:00 PM (last ticket sale at 4:30 PM)
FOUNDATION HOURS:
Monday-Friday: 9:00 AM to 5:00 PM
Saturday-Sunday: 10:00 AM to 5:00 PM
GIFT SHOP HOURS:
Monday-Friday: 10:00 AM to 5:00 PM
Saturday-Sunday: 9:00 AM to 5:00 PM
ADMISSION:
Cash only at the admission window
Foundation Members: FREE
Adults: $8
Seniors - 62 and over: $6
Students (with ID): $6
Children (5 - 12): $3
4 and under: FREE
Third Tuesday of each month: FREE