Frances Carlton, 1221 North Palm Avenue, Sarasota, Florida, 34236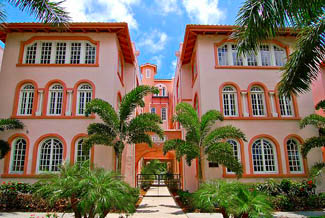 Sarasota, FL is one of the most fascinating cities in the world, and the idyllic lifestyle is conducive to peace of mind. For those looking for condos for sale in Sarasota to invest in, relocate to, or purchase as a vacation property, Sarasota could be the answer. Enjoy a piece of paradise with the famous beaches of the Florida Keys minutes away, championship golf accessible with a quick 20 minute drive, or the thrill of exploring the numerous centers for arts and culture that make Sarasota famous.
Residential opportunities are equally diverse from the wealth of bungalows on the side streets in traditional neighborhoods, to high-rise Sarasota condominiums for sale. Downtown Sarasota features a convenient strolling lifestyle that exudes tropical charm where residents can easily experience the electric ambiance of Sarasota condo life. Entertainment venues like the Golden Dinner Apple Theater and the Burns Court Cinema are only blocks away and a short 5 minute drive places you at the door of the Van Wezel Performing Arts Hall and the Ringling Museum of Art.
The Frances Carlton located at 1221-1227 Palm Avenue was originally built as furnished rentals in the 1920's and it later became Florida's first cooperative apartment complex. It now stands as one of the most charming and whimsical downtown developments offering condos for sale in Sarasota. Fittingly the Frances Carlton was listed in the in 1984 National Register of Historic Places for its architectural value and its depiction of the work of talented architect Alex Browning. Today the structure is a superb design of the Mediterranean revival style of architecture and was lovingly refurbished to its original opulence.
Frances Carlton condos for sale have floor plans measuring between 650 square feet and 1,150 square feet. Typically, they units are 1 bedroom and 1bath, and have price points varying from the mid-$200,000 range to over $300,000. A particular 720 square foot unit, however, can be found at just below $200,000, which can be great find for its 1 bedroom, 1 bathroom, and attached sun room.
There's a swimming pool within the complex and residents also have the option to keep pets in their units. As there are just 21 residences in the building, the residents at the Frances Carlton form a close community where friendships are easily built and maintained. The ambiance and charm of old Florida is manifested in the wrought iron gates immaculate tropical landscaping. Shopping for daily necessities is convenient at the nearby Whole Foods Market which gives you an excuse to visit the nearby Shelby Library. When the search for a new residence brings you downtown, take a peek at the condos for sale at the Frances Carlton.