According to Money Magazine
http://money.cnn.com/magazines/moneymag/bplive/2011/snapshots/PL1882700.html
Westfield Indiana is the #1 place to live in Indiana and the #48 place to live in the United States. We moved here 14 years ago and love it. If you are moving this way feel free to call me I would be glad to discuss the area with you. The quality of life here is wonderful.
I have been telling my kids for years...you live closer to Disney World than the real world...
Here is the article from Money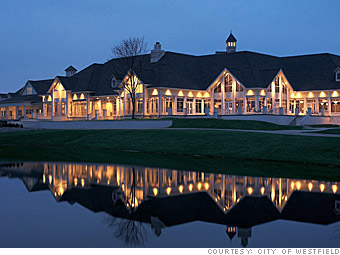 Top 100 rank: 48
Population: 26,100


Though Westfield is 20 miles from Indianapolis, residents have many job options right in town; major employers include Indiana Mills & Manufacturing and Porter Engineering Systems. The town's schools are among the best in the state; local high schoolers' SAT scores rank in the top 10% of the country. Among its annual events is the Grand Junction Derby, the town's version of the Indianapolis 500 in which residents race homemade soap-box cars. There will soon be even more to do here: Westfield recently started construction on a 300-acre youth sports campus. --D.B.
If you are moving to Westfield feel free to give me a call and remember me when it is time to bring in a Home Inspector.
I am Kim Carnes and I would be honored to inspect your home!
I am the owner and chief inspector of Carnes Home Inspections. Certified by InterNACHE, licensed by the great state of Indiana. Insured and bonded. I can help you with your home inspections, commercial inspections, owner inspections, new home inspections, radon gas testing, mold testing, lead testing, septic, water, etc... Call me, text me, email me, any and all of these at the same time.
See my website for my Money Back Guarantee.
If you know anyone relocating to Central Indiana, Indianapolis, Carmel, Westfield, Fishers, Noblesville, Zionsville, Sheridan, Hamilton County, Indianapolis Metro area and beyond I would love to help
Kim Carnes
Carnes Home Inspections
www.CarnesHomeInspections.com
Kim@CarnesHomeInspections.com
(317) 753-7098