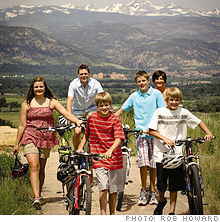 These terrific small towns stand out in the qualities American families care about most - great job opportunities, top-notch schools, safe streets, economic strength, nice weather, plenty to do, and more
Noblesville Indiana #2 in Indiana #50 in the U.S.
NOBLESVILLE INDIANA #2 in Indiana and #50 in USA.
Top 100 rank: 50
Population: 49,400
Just north of Indianapolis, Noblesville attracts not only couples with kids but also young professionals who like the easy access to the city and the affordable home prices. The town runs a Noblesville Young Professionals Group for people 18 to 35 who meet for networking events. Once it's time to settle down and start a family, residents appreciate the town's strong schools; Noblesville recently started construction on a new elementary school. And the local economy is relatively strong. --D.B.
If you are moving to Noblesville feel free to give me a call and remember me when it is time to bring in a Home Inspector.
I am Kim Carnes and I would be honored to inspect your home!
I am the owner and chief inspector of Carnes Home Inspections. Certified by InterNACHE, licensed by the great state of Indiana. Insured and bonded. I can help you with your home inspections, commercial inspections, owner inspections, new home inspections, radon gas testing, mold testing, lead testing, septic, water, etc... Call me, text me, email me, any and all of these at the same time.
See my website for my Money Back Guarantee.
If you know anyone relocating to Central Indiana, Indianapolis, Carmel, Westfield, Fishers, Noblesville, Zionsville, Sheridan, Hamilton County, Indianapolis Metro area and beyond I would love to help
Kim Carnes
Carnes Home Inspections
www.CarnesHomeInspections.com
Kim@CarnesHomeInspections.com
(317) 753-7098