The Innocence of Kindergarten. I have often wished that we could keep ourselves, our children & our society as a whole stuck in the years of Kindergarten, mostly because of the "innocence".
I treasure those years of Kindergarten, as those years, were the 1st time, I was able to go to intermingle with a large group of children my own age. I was sooo EXCITED!! :) It was during the period when Kindergarten was being developed though, & my Mom wasn't so convinced it was the thing to do. I remember hearing, "I think it would be better if we just waited to send her"..."until 1st grade", when most children start. I heard that, oh my goodness, for months!!! What "really was going on" was my Mom was more scared than I was. Sending me away for that event every day was too stressful for her. Why, I don't know? She was though! There was then the big dilemma...was it going to be private (being religious based) or public? I didn't understand all the worry. I wasn't afraid, or at least I didn't think so.
I was busy with my dolls, trying to play softball with my uncle without getting hit with the ball! My brother was a year old. Now I was very afraid of the ball... I saw stars a few times. My uncle was so patient with me. I remember my Grandma (my Mom's mom), would always coddle me, & take me into the kitchen every evening when she would cook dinner & I was there. She would rub my back & comb my hair. She made my favorite cookies. We were there quite often. (My other Grandmother was in Atlanta & it was very long distance to travel back then) I remember my grandma helped me get through watching the Wizard of Oz (in black & white), & she let me hide my head in her lap whenever the wicked witch of the west would come on. I had the BEST Grandma any girl could ask for, a wonderful family, & a uncle that I loved like a brother, as he was nicer than my brother later became to me ;-p (just teasing...well may be not, but that is how brothers & sisters were & I was the oldest).
I LOVE(D) horses of any kind...having grown up on a thoroughbred farm in Ocala prior to returning back to Miami, I had grown accustom to those gentle giants. Well to someone that tiny they were giants (even the ponies). I missed it but we lived very close to another race track in Miami called.... :)
"Tropical Park" & now it is a thriving part of the Miami community. I was still able to hang out around the stables & just started to be allowed to do a little bit of riding.
My favorite shows: all had horses in them Zorro & Mr. Ed were at the top of the list & of course then there were Capt. Kangaroo, Mickey Mouse club, Howdy Doody, and a few others.
I learned to ride my bike during this time & scraped a few knees, but the learning process was quick & never looked back. Then you didn't have to worry about being ran over by a car as there were definitely not as many around!
The women of the household either didn't work or worked part-time. My grandmother did work part-time at Burdines a large department store here that was within the past decade purchased by Macy's. While I didn't think about it that young…I think my Grandma must have liked the discount & the social aspect. My mom didn't work yet. She later took a part time job at a Pharmacy when I was off to a good start in school and she felt better about it being okay. She felt guilty though & to try to make it up to my brother & I she would always bring us home "Turtles" (the candy). They were very special to us & we hadn't gotten them all the time prior. We still get "Turtles" in our stockings at Christmas from Santa Claus. As a family we LOVED the Holidays & still do. (Santa brought me an EZ Bake Oven :)..)
There were also things like candy necklaces, salt water taffy, & cotton candy & the Ice Cream Truck & we went to Drive In Movies & fairs as a family.... Do you remember this guy?? (He wasn't just restricted to Kindergarten)
I couldn't forget these...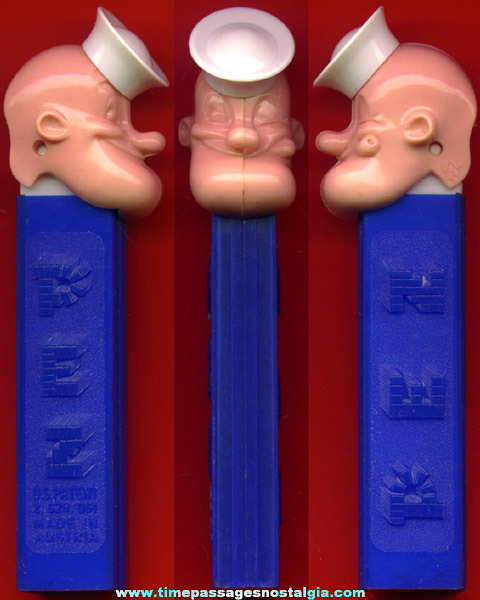 PEZ & Popeye (two in one) Lone Ranger, Silver & Tonto
Some set backs were that I had asthma that was discovered when I was two, so I think this was also part of why she was so protective with me about my going to be out of range at Kindergarten. They definitely didn't have the medicine & immediate treatment that they have now for me to carry around...so it was way more risky.
My grandparents had a German Sheppard at the time, that I tried to ride, & because we were both so skinny I fell off. I was going side to side & hit the arm of the chair that was wood with my two front teeth…luckily they weren't my permanent teeth. Even though we got to the Dentist in record time,…one wouldn't re-attach itself. My Mom & Dad were NOT happy, although my Dad took it pretty well.
It was a very loving & happy time. We did many picnics & fairs as a family. We were "ALWAYS" outside playing. If it were too hot (which of course in South Florida can be) We would be inside & watch some TV (Black & White) on the terrazzo floors. We were wise on electricity, as it was very expensive, & not as efficient. We didn't have Central Air. We had two window units at my grandparents, but none at our house. Black & White TV was all that was available, We had that at both houses, & we had just gotten "a" car! School itself wasn't too serious...in fact it was like recess. Now there are so many stresses & while I don't know for sure...I would bet they go all the way to Kindergarten with "scores". I learned that there was a LOT to learn, that there were "more" rules (I was okay with rules), & that not everyone was not alike,... nor played the same? But, truly we were "all" having fun. It was so easy to make friends, as everyone was so open & caring. I only remember one girl, feeling really badly for her, she was traumatized, & cried & cried, until she could have her Mom come back & pick her up... :( Everyone else, well they enjoyed it...ah the other main difference, it wasn't every day!! It was 3 times a week!
This year of Kindergarten I had, it did come with a bit of sadness unfortunately, and it was totally unexpected (at least by me). We lost my Grandfather and he was ill quite a lot & quite suddenly, but my Mom so young, she didn't expect it either I think, nor what was ahead. He passed of Cancer. He was from Kentucky & was in the Tobacco family trade at one point. I didn't really understand why at the time…then very shortly thereafter we found out my uncle was sick.
He had as a child a tumor on his brain. He was younger than my mother & only 9 years older than I.
http://health.usnews.com/best-hospitals/pediatric-rankings/cancer
This came as a tremendous shock to my Mom & my grandparents. They found out just before my grandfather passed. Then my grandmother became ill, which of course I also didn't understand at the time! Now I realize that many times spouses pass within a year from each other when they are close. However, my Mom still doesn't know the exact cause of death. They didn't do the autopsies like they do now.
I think it was all so incredibly difficult for my Mom as she was just 25 when her Dad passed & her brother became seriously ill & then my Grandma passed when she was 26. They say with situations like my Grandma & Grandpa, if they make it past that first difficult year then usually things stabilize. (I had to handle death benefits for one of my first positions at a company I worked)
We were over visiting my Grandma, when all of the sudden my Mom burst into tears from something that I later heard was on the car radio, in my Grandma's driveway, while we were still there visiting her while she was ill. My Mom had burst into tears almost hysterically. I truly didn't know then why & thought something terrible with my Grandma, but it was because the president had been shot. (November 22, 1963) Things just didn't happen like that in life …. especially back then. Of course since then I have had 9/11 just returning from New York the night before & my background...but in Kindergarten, no, those things didn't happen.
My Grandma didn't pass until I made it to 1st grade, but the rest of that year of Kindergarten was a bit of a challenge, as my Mom was trying to help her & take my uncle for treatments. In that era, we were fairly primitive, compared to what advancements we have available to us now. He was just 14. He survived until he was 21 & was like my older brother. He loved me so. He had so many surgeries & plates in his head & very harsh treatments. His wishes were so simple. I kept every piece of him that I could hold onto into my marriage. I was very cared for & could not have asked for a more loving family & of course we still are to this day.
I think those losses made the rest of my family even tighter. I know those were some terrible years for my Mom, as she basically had lost, or was being threatened with the loss, of all of her immediate family (well except for my Dad, brother & I).
Things I learned during those years of Innocence in Kindergarten:
*To meet new friends J
* To ride a horse J
* To ride a bike J
* To NOT ride our Dogs :-/
* To NOT be afraid of Witches J
* To know how much I was LOVED J
* To Be Careful as sometimes there are bad people (JFK) L
* To Treasure Life & my Family J
* To LOVE (my family, my pets, my class, my friends, & my fun) J
* To Take Risks (as my Mom did w/ work & my school & caring for my family) J
* To Be good For Santa & Be Good for My Parents & Teacher!! J
* To Hold Hands Tightly J
I guess I grew more in Kindergarten than I realized... I never did understand death though!! <3 I actually didn't get to finish Kindergarten because of my grandparents passing & my Uncle's health, but I got enough of a taste to know I would LOVE learning "&" LOVE school! In looking back though I think it was the age when I passed through "Innocence"...(not in the sense that some refer, but definitely a passing) .... and it was a whirl wind year.
I guess that is why, I always want our children in Society (& wanted my three), to be able to stay there longer (be frozen) & be able to treasure that time. Robert Fulghum is right "Everything we know we learned in Kindergarten!" :)... & to have a little FUN every day!! :)
Pam