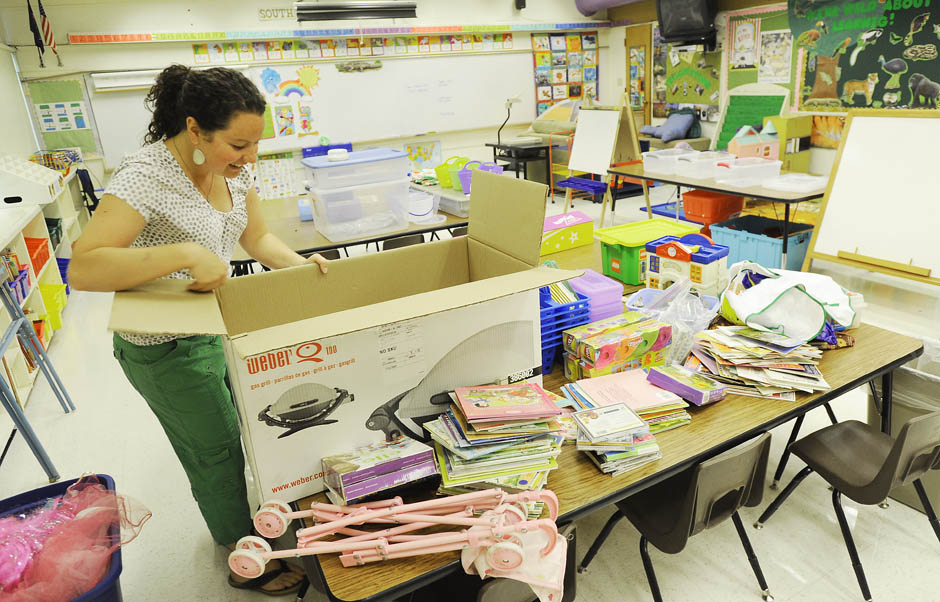 Ingrid Madsen unpacks items to prepare the classroom for her kindergarten class at Whittier Elementary School Tuesday
Kindergarten teachers Ingrid Madsen and Lena Wessel are working hard to get their two new kindergarten classes ready for the arrival of children next week.
Madsen, a summer ranger at Yellowstone Park, has been planning her class since she was hired at Whittier School last spring.
But it was just two weeks ago that Wessel found out her school had to add a fourth kindergarten class. She jumped at the chance to teach it, and ever since she's been working seven days a week to create a cozy classroom from scratch, complete with reading nook, play kitchen and math and writing centers.
These classes are just one example of the changes the Bozeman School District has had to make to accommodate a surge in enrollment in the youngest grades.
Since June, more than 600 new students have signed up, including an unofficial record of 502 kindergartners, which is 32 more than expected.
The surge has forced school officials to hire eight additional teachers, instead of the six that were budgeted. They have created several more classes that combine two grades in one room. And they've put 72 children on waiting lists to get into their neighborhood schools.
All seven elementary schools are full, including the newest, Hyalite, which opened just two years ago.
Why there's a surge in early grades is a matter of speculation. Miller said it might be that the drop in Bozeman's home prices has attracted young families to Bozeman.
Others have speculated that the recession is making it tougher for families to afford to keep young children in Montessori and other private schools.
To figure out how to handle the unexpected and uneven surge, school officials delayed for one week sending out letters to parents notifying them which schools their children are assigned.
Miller said letters were mailed this week to parents of 2,726 elementary kids.
While most kids will get into their neighborhood schools, 72 did not, and their parents may feel disappointed there wasn't room. Miller said only about a dozen kids were bumped from the schools they attended last year to make room for kids who live within the neighborhood attendance area, who have priority under school policy.
The district has created:
Two new kindergarten classes, plus a combined fourth-fifth-grade class, at Whittier.
One new kindergarten class at Hyalite.
Multi-grade classes at Longfellow (combining kindergarten and first grade), Irving (kindergarten-first), and Hawthorne (first-second). Multi-grade classes already existed at Morning Star (fourth-fifth) and Hyalite (third-fourth).
Teacher Madsen said she's eager to show her kindergartners photos of Yellowstone Park animals, junior ranger badges and the faux campfire she made from rolled up magazines for her classroom theme, "Camp Learn-a-Lot."
School starts Monday for Bozeman students, except kindergartners, who start the following Thursday.