Willow West is located in Dayton, Virginia, which is a few miles south of Harrisonburg, actually, but many residents commute the short drive to Harrisonburg for work. This neighborhood is tucked away on the northwest side of the Town of Dayton, and consists of two quiet streets — Willow Drive and Northview Street — each ending in a cul de sac.
Homes in Willow West are typically large Colonial or Cape Cod style homes, constructed with either brick or vinyl (or a mixture of the two). Most of these homes are situated on lots from about 1/3 to 1/2 acre in size, contain maturing trees, have garages, and several have front or wraparound porches. This neighborhood was established in the early 1990's and there are still a few vacant lots left for those who would like the opportunity to build their dream home.
Some homes in Willow West have the most amazing views of the countryside and western mountains, and some even have views of Massanutten Peak!
In Willow West, you can find homes ranging in price from the mid $200,000s to the mid $400,000s, depending on the features included and how many upgrades the owner has made.
Quick Stats:
Average List Price*: $300,950
Average Selling Price*: $291,688
Average Home Size**: 4 bedrooms, 3.5 bathrooms, 2601 square feet
2011 School Districts: John Wayland Elementary School, W S Pence Middle School, Turner Ashby High School
Links of Interest:
Map of Willow West: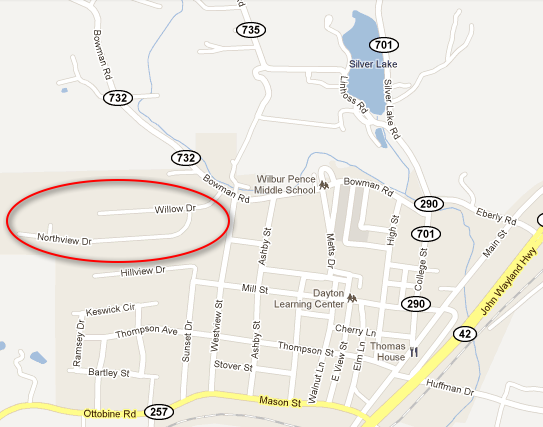 * This data is for homes sold from 9/14/09 - 9/13/11. Pulled from the HRAR MLS.
** This data is for any homes ever listed in this subdivision. Pulled from the HRAR MLS.