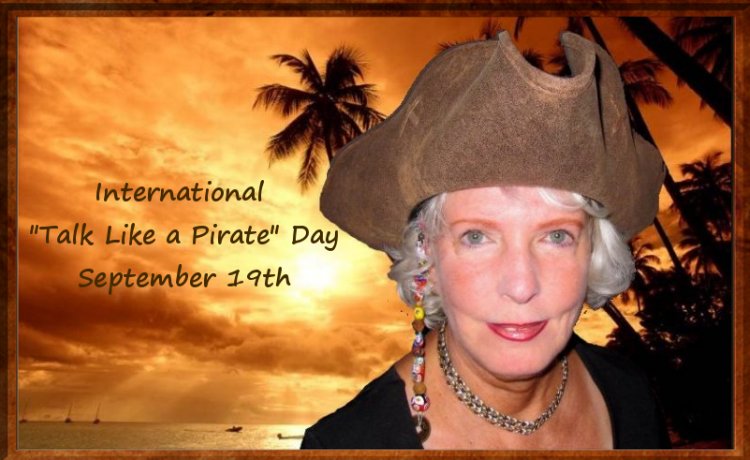 There are the old traditional holidays that folks love, and there are newer ones having their beginnings in recent years. My personal favorite is observed today!

International Talk Like a Pirate Day, celebrated each September 19th, struck a resonate chord almost from the moment of it's inception sixteen years ago. It is a day to cut loose modern convention, and free your Inner Pirate!
So don't miss out sharing this "important" day with your co-workers or fellow agents and clientele.

International Talk Like a Pirate Day had its inception in 1995 by John Baur and Mark Summers from Albany, Oregon. These two proclaimed September 19th of each year, as a day folks around the globe should drop their native lingo and talk like a pirate.

Set aside your usual greeting of "Hello" for expressions like "Ahoy, me hearty!"

Mark Summers tells the tale about how the day came about as a result of a sports injury, he suffered during a racquetball game between he and Baur. One of them reacted to the pain with the exclamation, "Aaarrr!"
The date of the injury was actually June 6th 1995, but the two decided to chose Mark Summer's ex-wife's birthday (September 19th), for the annual celebration. Apparently, the ex-wife had plundered Summer's wealth during a divorce.

So on September 19th of each year, the globe talks pirate!

Usually in October, I have a Pirate Party at my house for my family. It is to celebrate a number of family birthdays that fall during the month. In the past I have photo-blogged them. They have come with such themes as "Where Pirates Go" and "My Big Fat Greek Pirate Party."


The theme this year is "Spices." I have set the date, but won't be posting it here, for fear I will have one of those Facebook episodes where a party gets announced and thousands show up:-)

For more information about this day of celebration and fun, and the proper lingo (vocabulary) to implement, you can check out the following weblinks:

http://www.talklikeapirate.com/piratehome.html
http://en.wikipedia.org/wiki/Holiday