Le Chateau, 37 Sunset Drive, Sarasota, Florida, 34236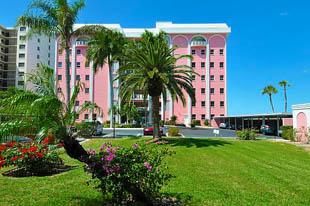 Le Chateau is a condominium in Sarasota, Florida, with a distinctive personality that readily establishes itself. For one, it has a striking coral pink exterior paint that immediately stands out in the neighborhood at its 37 Sunset Drive address. Moreover, its architecture is of charming French provincial design that evokes a quiet Old World ambience.
This condominium's development was completed in 1971, predating the construction of its illustrious neighbor, the Ritz Carlton. There are 27 units in this condo which immensely benefit from excellent waterfront location of the property. The view of the Sarasota Bay here is practically unobstructed and the residents have their own stretch of private beach, a feature that always carry a premium among Sarasota condos for sale.
The charisma that the Le Chateau projects goes well beyond aesthetics. All of its units have cross ventilation, laundry facility is available, and a separate building has been constructed for storage. In the choice units, the main living areas are designed to provide a panoramic look of the Sarasota Bay. Home buyers finicky with community facilities will likewise be pleased with the condominium's gate house, beautiful lobby, elevator service, covered parking slots, fishing pier, and a swimming pool.
For all these splendid amenities, it is a delight to browse through La Chateau condos for sale which are at very competitive prices. A one-bedroom, one-bathroom unit in this condo with a floor area of 805 square feet can have a tag price of $282,500. Such a quote is quite attractive considering that many properties in the property's vicinity are valued in the million-dollar level. Even the more spacious units could be as attractively priced, with some quotes ranging from the mid-$400s to the $600s for condo homes having floor areas of about 1,500 square feet, three bedrooms and three baths.
Exciting takes from an acquisition of a property at the La Chateau are, in addition, provided by the numerous venues for arts and culture that are within easy reach from the condos. A short distance north of the community, for instance, are the Van Wezel Performing Arts Hall and the G Wiz Museum, while a bit down south are choices from among the Florida Studio Theater and the Golden Apple Dinner Theater. Superb restaurants, such as Ceviche Tapas, Like in France, and Café Epicure, are likewise nearby choices.
Toward the bayfront in this area, the alternatives extend to the O'Leary's and Marina Jacks at Island Park. Facilities for outdoor recreational pursuits are available in this area, including the Marina Jacks Trail which loops around the park. Traversing the Ringling Causeway Bridge west of the La Chateau condo, within minutes brings access to the shops and boutiques of St. Armands Circle, as well as to the beaches of Lido Key and Longboat Key for a truly eclectic lifestyle choices for the Le Chateau residents.