La Bellasara, 464 Golden Gate Point, Sarasota, Florida, 34236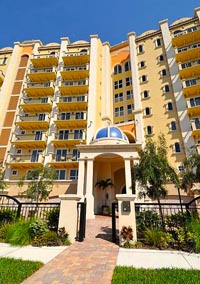 For million-dollar Florida residences truly worth their value, La Bellasara condos for sale in the Sarasota real estate market, certainly deserve the due diligence. This real estate development was completed in 2005 and consists of twenty-nine luxurious units neatly tucked in a splendid building at 465 Golden Gate Point.
Precious value is attached to the condominium's location, the twenty-two-acre Golden Gate Point Peninsula strategically located right beside the Ringling Causeway Bridge. This area is not only very close to the downtown of Sarasota City but is also at the gateway to various points of interest in this southwestern Florida locality. As to be expected, the peninsula has attracted many luxurious property developments.
The delightful vistas of Sarasota Bay and the harbor area will immediately impress prospective buyers of La Bellasara condos for sale. Complementing such a positive first impression are the excellent features of each condo unit that can have floor areas in the 3,100-6,600-square-foot range. The appointments to be found in the residences, such as grand salons, terraces, walk-in closets, and fine cabinetry, can be described as royal in the real sense.
A La Bellasara penthouse boasting of such extraordinary features in a grand floor area of 6,000 square feet can have a tag price around the $6.5-million level. Exquisite alternatives in condo units having floor spaces of in the ballpark of 3,000 square feet can take the quoted prices to the $2 million–$2.5 million range.
Amenities matching those of five-star hotel resorts can be found at La Bellasara where the units also have private two-car garages. Twenty-four-hour concierge services are available in this gated condominium complex. The residents have access to a heated pool and spa, private boat docks, and a fully equipped gym. The other facilities available to them include a multimedia room, billiard room, a board/conference room, social events room, and catering kitchen.
These posh facilities are more than adequately complemented by superb areas for shopping, recreation, dining, and entertainment which are only a short distance away from the condo community. For daily shopping, one convenient nearby choice is the Whole Foods Market which also close to fine restaurants like the Bijou Café and Ceviche Tapas Bar. Diverse entertainment options can also be had at the Golden Apple Dinner Theatre and the Florida Studio Theatre.
It won't take much time too to avail of some out-of-town treats. Just across the Ringling Causeway Bridge is the St. Armands Circle, home to over 130 shops and boutiques, in addition to the many excellent dining venues around its vicinity. A small hop from this area toward the west, the pristine beaches of Lido and Longboat Keys additionally offer that million-dollar feeling from available recreation and leisure activities there.