Renaissance, 750 North Tamiami Trail, Sarasota, Florida, 34236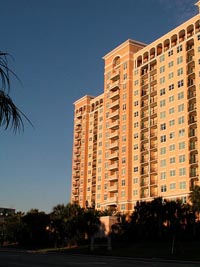 Adopt an endearing downtown lifestyle in Sarasota, Florida with the acquisition of a residence at the Renaissance, truly a thrilling find from among Sarasota condos for sale. This property consists of 244 units in a sixteen-story building constructed in 2002. Developed in an eleven-acre site at 750 North Tamiami Trail close to the waterfront, this condominium is considered as one of the largest condos in the city's downtown district, providing quite ample residential choices.
Those whose lifestyle calls for spacious residences will find delightful options for three-bedroom units with floor areas of around 1,500 square feet and quoted prices in the high $400s. Some listings of Sarasota real estate for sale can have exceptional choices in upper floor units with such specs. These homes afford not only commanding bay front and downtown views but also the panorama offered by the neighboring barrier island of Siesta Key and the Gulf of Mexico waters.
Exciting alternatives can likewise be offered in sales-listed three-bedroom units having floor spaces of 1,000 square feet or in one-bedroom units with floor areas of 490 square feet. The price points for these residences, depending on dimensions and features, can range from the low $100s up to the $200s. Upgraded appliances, complete furnishings, and refreshing balconies are but a few of the features of some sales-listed units. Others have walnut bedroom flooring, marble countertops, walnut wet bar and upgraded den with pocket doors.
A dazzling array of condominium amenities provides additional glitter to Renaissance condos for sale. The Renaissance has a business center, conference room, sitting room, and guest suites. The community facilities, moreover, include those for leisure activities such as an expansive club room complete with a kitchen, a multimedia room, a fully equipped fitness center, and massage rooms.
In addition, the residents enjoy the access to a resort-type pool and spa with natural gas heating. Notably, the boiler in the "Mechanical Penthouse" which heats the water for domestic use in the building also uses natural gas.
Such energy efficiency is but reflective of the superb management and maintenance of the Renaissance condominium complex which is handled by a reputable firm, Sentry Management. The services that it provides include those of an on-site manager and a staff for housekeeping and maintenance. The residents of the condo can also rely on a committee of the homeowners' association to organize social gatherings and activities regularly both in and out of the complex.
Whether it's an organized or individual outing, life and leisure pursuits are within easy reach around the community. The choices include arts and culture activities at the Van Wezel Performing Arts Hall, and Arts Center Sarasota. For shopping, the nearby Whole Foods Market offers items for daily needs while St. Armands Circle across Ringling Causeway opens the alternatives for chic shops and boutiques, effectively extending the downtown lifestyle offered by the Renaissance condos for sale.