Majestic Bay, 258 Golden Gate Point, Sarasota, Florida, 34236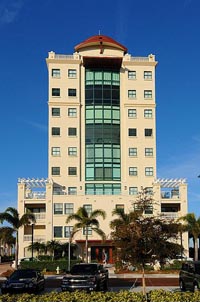 A royal lifestyle in a wish list can find easy fulfillment in the Majestic Bay condominium which presents delightful options among Sarasota Florida real estate alternatives. This property was developed at the Golden Gate Point Peninsula, one of the most prestigious residential locations near Sarasota's downtown district.
There are only ten units which share the condo's 258 Golden Gate Point address, underscoring the exclusivity of this condominium built in 2004. Its 22-acre location was formerly known as Cedar Key. The peninsula's current name came about after circus magnate John Ringling purchased the barrier island during the 1920s.
It was aptly renamed Golden Gate Point to highlight the fact that the original bridge to St. Armands Key, which the ever-entrepreneurial Ringling also acquired for development, had its eastern entry at the key. This place eventually became a peninsula following the completion of the project for St. Armands as a commercial center which Majestic Bay now enjoy close proximity.
The glowing sunsets and magnificent vistas of the Sarasota Bay enjoyed at the peninsula are but a preamble to a full list of factors contributing to the marketability of Majestic Bay condos for sale. Aside from the excellent design and finish of each residence, only one unit occupies a floor, ensuring generous floor areas and optimum privacy for the residents.
The lofty status of these residences among Sarasota condos for sale can also be readily seen in their luxurious foyer, elegant balcony, and private elevator. A due diligence on sales-listed units at the Majestic Bay condo can begin with an elegant two-bedroom home priced at around $1.5 million, featuring some 2,700 square feet of floor space. A three-bedroom option in the upper floors of the condo with a floor plan of approximately 3,000 square feet can have a tag price of about $1.7 million.
An enchanting list of amenities further adds to the glitter of condos for sale in Majestic Bay. Its residents, for instance, not only have access to a spa and heated swimming pool. Likewise available to them are a fitness center, wine storage, covered parking, and a car wash facility. There are deep water boat docks, too, which can be ideal as a jump-off to the nearby Gulf Coast beaches that can also be easily reached via the Ringling Causeway Bridge.
Those living at Majestic Bay can easily appreciate up close the many wonderful bayfront sights from the condo. The refreshing Island Park, for example, is a comfortable walk from the community, enabling access to the Marina Jacks Trail and its benches, pathways and promenades. Two charming restaurants in the park, O'Leary's and Marina Jacks, offer exquisite dining experience.
A short saunter north and northeast of this area offer even more culinary appreciation at places like the Ceviche Tapas Bar Restaurant and Bijou Café. The Whole Foods Market is at the same vicinity, along with entertainment centers such as the Florida Studio Theatre and the Golden Apple Dinner Theatre, any of which can offer performances as royal in character as the Majestic Bay condos for sale.