FIRST TIME HOME BUYERS: WHAT YOU NEED TO KNOW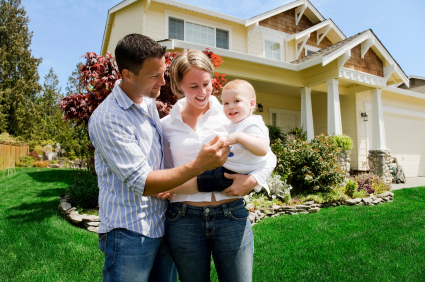 Home ownership is often referred to as the "American Dream", and our rate of home ownership is the highest in the world: two out of three families own their own home. Buying a home is also the biggest financial investment most people make in their lifetime, so it makes sense to learn "and earn" as much as possible.

The basic benefits can be summarized as providing your need for shelter, profit potential, tax advantages and pride of ownership. It is commonly said that even when you rent, you pay a mortgage - your landlord's mortgage! So if you need shelter and can afford to buy a home, it makes economic sense to pay for your own mortgage instead of the landlord's. The tax advantages include being able to deduct the mortgage interest and property taxes from your income. Uncle Sam is very generous to homeowners.
Benefits of Homeownership
Owning a home is considered a sign of success, and it provides great emotional rewards for many homeowners. It also provides an opportunity to improve an investment by upgrading the home and landscaping. And, unlike other investments that are based on the money invested, home ownership lets you obtain a return on the money you invested as well as money you borrowed. 'Leverage' is what attracts investors to real estate and rewards homeowners for living in and improving their homes. Real estate values generally rise over time and lenders view real estate as low risk and marketable because it is a tangible asset.

And the tax advantages grew significantly with passage of the Taxpayer's Relief Act of 1997. The new law exempts capital gains tax on profit from a home sale of $250,000 for a single owner and $500,000 for a couple. The old rule required homeowners to wait until they were 55 to take advantage of tax breaks and they were restricted to a one-time exclusion. The new rule applies to each two-year period from the date of purchase.

Wants & Needs
Once home buyers decide on the number of bed and bath rooms and settle on a price range based on their financial ability or their 'comfort zone' of payments, there are still a number of issues to ponder. What style of home is appealing? What kind of yard makes sense? How old should the home be and in what kind of condition? Is new construction the answer to your dream home ideas or do you love antique homes? What about a condominium? Take some time to realistically set criteria based on your present and future needs. Then make a list of the amenities or extras and identify if they are truly necessities. If not, keep a 'wish list' for the future.
Sincerely,
Catherine Bennison - Realtor Associate
Keller Williams LA Harbor Realty
Direct: (310) 707-2162
Cell: (310) 748-7889
Fax: (310) 519-1882
E-Mail: CBennison@KW.com
Website: www.CatherineBennison.com
DRE# 00946724