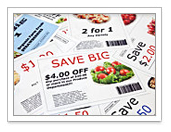 A night out on the town can be expensive, especially if you're taking the whole family. So how can you explore your city without blowing your budget? There are quite a few Web sites out there made to help. Read on to learn about some of the best for your local saving pleasure.

LivingSocial.com
This site highlights a random daily deal for a local business or retail chain that can be anywhere from 50-90% off. Once you sign up, they will send you an e-mail each day with information on the deal. All you have to do is click "Buy Now" and a voucher for the deal will be e-mailed to you on the business day. A nice incentive to spread the word is that every time you buy a deal, you're given a special link to send out to your friends. If three of your friends purchase the same deal, yours is free! LivingSocial also has categories for family-specific deals, getaways, and company-run "adventures."

There's also a free smartphone application you can download to your iPhone or Android mobile device. You get all of the same perks you would from the site, but there are some exclusive features the site doesn't provide, such as a "deals map" that highlights which establishments around you are currently discounted. Also, instead of printing out your coupon, you can just bring it up on your phone and show it to the merchant–no more paper!

Groupon.com
Groupon is similar to LivingSocial, but instead of just a daily deal there are also a few limited time discounts for local establishments and online retailers as well. If you feel like taking a vacation, check out their Getaway Deals for discounted destination packages to places like Rio Rico, Arizona and Great Exuma, Bahamas.

If you're feeling green, Groupon also has a smartphone application that has all of the site deals and features available.

Bloomspot.com
This discount site focuses on the "higher caliber restaurants, spas, boutiques, and other experiential merchants." Based in San Francisco, Bloomspot features 11 of the major U.S. cities instead of the widespread discounts of the previous two sites. If you're ever looking for a 5-star experience for a 2-star price, or have a big occasion to celebrate, give Bloomspot a look.

Travelzoo.com
At over 24 million subscribers, Travelzoo is considered the largest deals publisher on the Internet. Travelzoo originally specialized in travel discounts, such as hotels, airfares, cruises and vacation spots, but they've recently added a local deal category for many of the major cities.

While their deals aren't as readily scheduled as the previous sites, they do feature multiple deals at a time. Also, if you do find yourself taking one of their worldwide travels, Tarvelzoo also has separate editions for countries like Canada, France, and China to name a few.

Remember: If you find a deal you like, don't be greedy. Many sites, including these, give credits to people who recommend the site to their friends. You can spread the word by forwarding the deals through e-mail or by posting them to your Facebook or Twitter feed for your friends to see. So the more you share, the more you save.

With the help of these sites, your family can have fun–no matter your budget! So hop online, and let the fun begin.
By Trevor Kerrick