Homes In Sugar Land – Riverstone
Riverstone located in Sugar Land is a planned unit development community that will have over 6000 homes once completed. It will cover over 3700 acres consisting of townhomes, single-family homes, custom homes, resort-quality amenities, excellent schools and a multitude of retail shops. The cost of homes covers a broad range allowing anyone seeking a planned community several options. One particular neighborhood within Riverstone is The Terrace at Riverstone containing 147 homes with an average near 5000 square feet. Prices begin in the upper $400's and top out at just under $1 million. Another neighborhood is Crossing Cove at Riverstone with 172 homes priced in the $300's and an average size of 3900 square feet.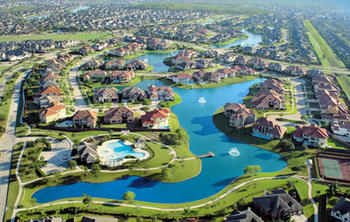 Riverstone utilizes numerous builders including Darling, Toll Brothers, Westin Homes, Meritage Homes, Sterling Classic Homes, and Christopher Sims Custom Homes just to name a few. For a complete list of builders please visit http://www.rivestone.com
Riverstone is mainly outside the city limits so taxes are covered by Districts. The tax rates within Riverstone are the following:
All Sugar Land Addresses and Missouri City Addresses in Stonebrook
MUD # 128, 129, 149 .70
LID # 15, 19 .80
Fort Bend County .49976
Fort Bend ISD 1.34000
= 3.33976
Missouri City Addresses except Stonebrook
MUD # 115 .50
Fort Bend County .49976
Fort Bend ISD 1.3400
Missouri City .5284
Houston Community College .09222
= 2.96038
At Homes In Sugar Land (Country Club Lifestyle Realty) we are fully integrated into Riverstone and can help provide you with the most up-to-date best information available. Heck, one of our owners actually lives there!