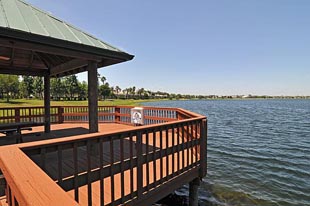 Lakewood Ranch real estate development- The Moorings at Edgewater, is located on a 17 acre peninsula on the 160 acre Lake Uihlein. With The Moorings and every other residence and structure within Lakewood Ranch meeting the Florida Green Building Coalition's Green Home Standard, energy efficient and environmentally responsible living is assured for every business and homeowner.
Surrounded by 150 miles of walking trails, wildlife nature preserves, and the convenient activities of the world famous gulf coast beaches, The Moorings is also close to the lauded Sarasota fine arts community, and the exciting entertainment communities of Tampa Bay, Orlando, St Petersburg, and Ft Meyers. The Moorings at Edgewater real estate also benefits from the convenient walking distance to the shops, schools, restaurants, movies, and services of Lakewood Ranch's Main Street.
At the heart of The Moorings you will find its most well known feature. A quaint wooden boardwalk leading from the neighborhood to the exclusive for residents' private island that's for docking watercraft, hosting get togethers, or sitting and watching blazing gulf coast sunsets. Other fine amenities at The Moorings at Edgewater include a social clubhouse, grass volleyball and bocce ball courts near the entrance, fully equipped exercise room and sparkling pool and spa.
Golf enthusiasts at The Moorings will delight in the approximately 25 golf courses within a 25 minute drive of your doorstep. Lakewood Ranch Golf and Country Club boasts 54 holes of championship golf alone and as a private club member you have access to the opulent club house and the Athletic Center with its hard court tennis, state of the art fitness amenities, swimming pools, and to a notable clubhouse that is beyond compare. With half of Lakewood Ranch thoughtfully reserved for recreation and outdoor excitement, the selection of activities is practically endless. With so much to do in and around The Moorings, things that bring real peace of mind are just as important. Within walking distance are also top ranked schools, day care centers, and the new state of the art 120 bed Lakewood Ranch Medical Center.
It is rare to find a lake of such size and beauty around Sarasota, and many of The Moorings units overlook the lake providing stunning water backdrops to each day's activities. Residences at The Moorings community consist of 34 condominium buildings with elegant floor plans available from from 1,800 to 3,200 square feet and with price points from the $350,000 to the $640,000 ranges.
Welcome to your new life at The Moorings offering a synergistic balance between nature and a contemporary convenience filled lifestyle.