Patti's Restaurant, Grand Rivers KY
This is an update to my original review of Patti's Restaurant Original Post.
Patti's Restaurant is a great place to drop in for lunch, like Marsh & I did, yesterday. Anytime we are anywhere near Patti's Restaurant anywhere near a meal time, we just can't resist. The food's always special, even when there is no special occasion.
And, even though we often drop in without reservations and miraculously get seated, we almost always sit at the same table. I have no idea how that happens. Yesterday was no exception. I took a couple of photos from my chair to show you just a tiny bit of what Patti's Restaurant looks like around Christmastime.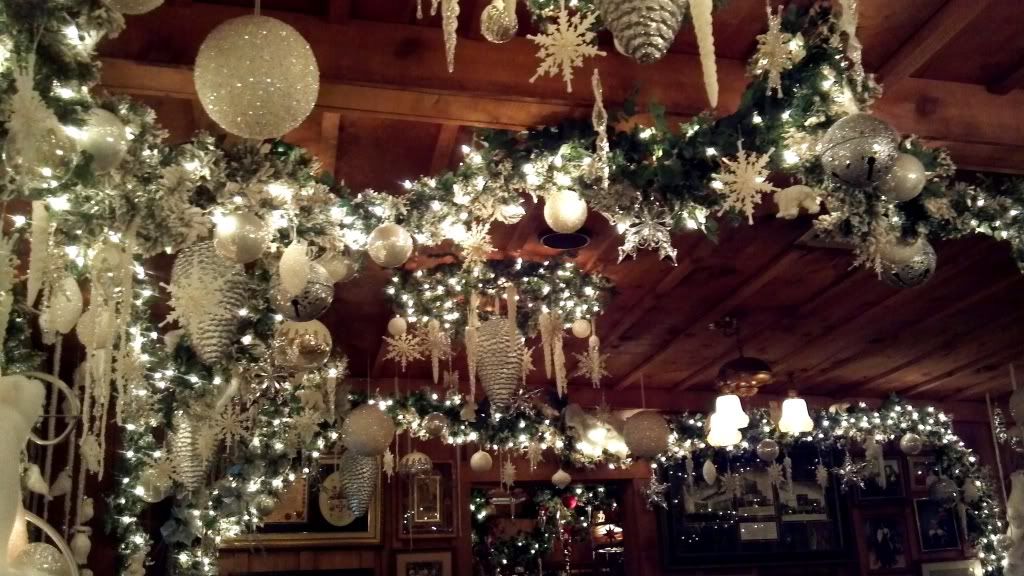 The picture on the left is the ceiling above our table, and the one on the right is the wall beside us.
These are just typical of the hundreds of thousands of lights Patti's puts up for the Christmas celebration. It's an entire village.
You'll just have to see the rest for yourself. It's an awesome sight.
That's the first reason for this update, since my review in my Original Post was written during the summertime, when Patti's only has their "ordinary" decorations in place.
The second reason for the update is simply to say that, out of all the great dishes we have enjoyed over the years at Pattie's, I just might have had my new favorite, yesterday. Bean soup with pork. Yes, that's right, white beans. Not very exotic, I admit.
But, it was undoubtedly the best white beans I've ever eaten. I will be experimenting for the rest of my life trying to duplicate the flavor of Patti's bean soup, unless Chip Tuller reads this and offers to end my misery by offering me his recipe.
The look, the texture and the taste were as near perfect as one can get with something as simple as white beans with pork. I might have gotten carried away. I had my third helping for dessert, while Marsh enjoyed a huge slice of Patti's famous "mile-high" Coconut Meringue Pie ;)