Up in Sacramento, our state capitol, there's a great little restaurant about 2 blocks from the Capitol called Frank Fat's. It's been there since 1939 and over the decades it's earned the sobriquet 'The Third House' because it was a popular gathering place for legislators, lobbyists and governors - along with California's business and financial leaders. It's been said that more successful legislation has been concluded over a dish of Honey Walnut Prawns at Fat's than was ever conducted up the street. Tales of politicians from opposite sides of the aisle fighting like cats and dogs during the day resolving their differences over dim-sum are legendary. From Ronald Reagan to Willie Brown, Pat Brown to Jerry Brown - they all got the business done for our state.
But no longer. Oh, you still see politicians, lobbyists and business leaders enjoying a meal at Fat's.,But today you won't see Democrats and Republicans dining together. That's something that's changed over the past 20 years in Sacramento and perhaps even more-so in Washington DC. And it's why we see FAIL after FAIL in the political arena today. Everybody's talking past each other in sound bites - nobody talks to each other anymore.
Our political process has grown more polarized, more hyper-partisan and less accommodating than ever before. Cooperation and compromise are seen as signs of weakness, Hacks who could never get elected themselves, like George Soros and Grover Norquist, pull strings from our statehouse to the White House - to our detriment.
But to some extent it has to be a reflection of the way we ourselves have headed for opposite ends of the spectrum as people, or at least as voters. We claim we want compromise but only select our electeds from the wings of each party. We refuse to accept any candidate who falls from ideological purity. Moderates and independents are gone. If you don't believe me, look no further than the following charts taken from the National Journal and CBS News showing the statistics for the U.S. Senate for the past 30 years.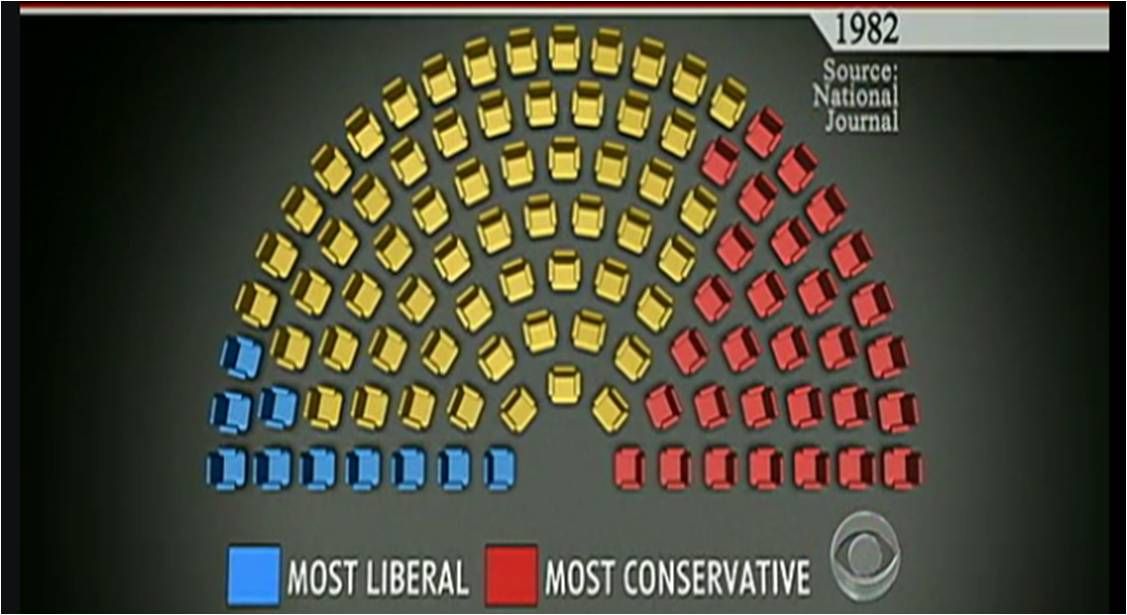 In 1982 there were 60 Senators deemed 'Moderates' based on their voting records and self-professed ideology. This was the fertile middle ground where stuff got done, bills were passed and the needs of a moderate populace were served.
A dozen years later, that number had shrunk to 36. Still a good size group and capable of reaching a compromise so that good bills were able to be passed.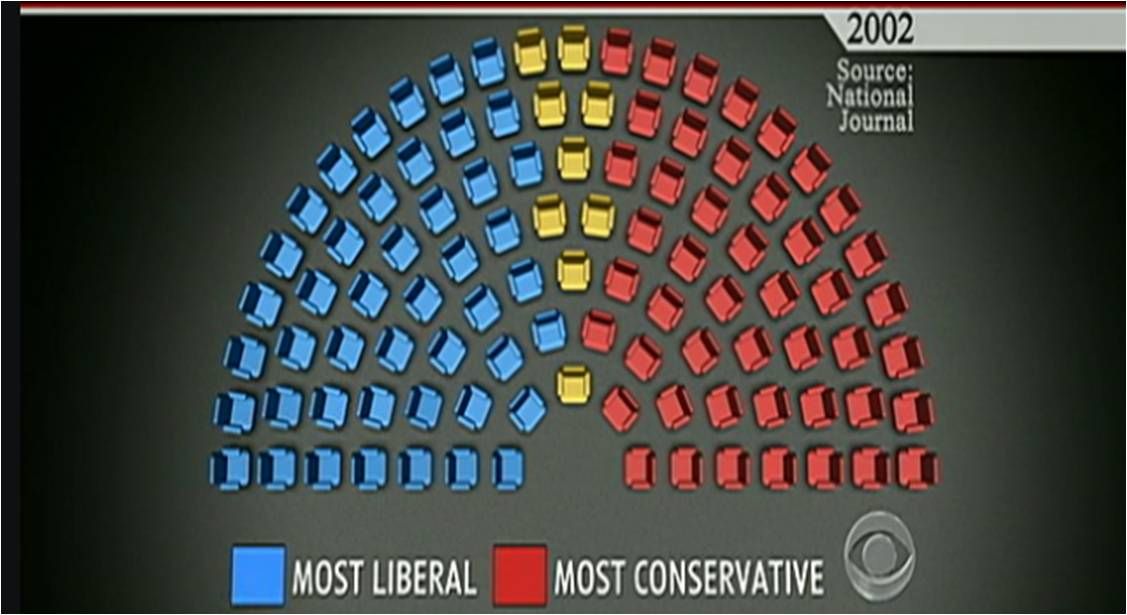 A scant decade later that number had shriveled to 9 - the art of compromise had been lost, the era of polarized partisan politics was upon us.
Today it should come as no surprise there are none. And nothing gets done - they can't even pass a budget for our nation. Yet statistically we will re-elect some 86% of these same party die-hards to office next November. Why? Because in spite of the problems we know we have, it's YOUR Congressman's fault, mine is good.
BULLSHIT! They're all hacks. And if you insist on re-electing the same right-wing nutcase or bleeding heart liberal, you only have yourself to blame. Most people I meet are neither far right nor far left and most understand the need for compromise in their own daily lives. Why can't that same rationality be reflected in the people we elect to represent us?
Of course that's just my opinion. I could be wrong.