Thousands of people lost everything they had Sept. 12th, 2008 in a shockingly powerful storm called Hurricane Ike, which made landfall in Galveston Texas. 112 people were killed, and 23 still missing to this day. Damages from Ike in U.S. coastal and inland areas are estimated at $29.6 billion.
This is my Grandmother's Story…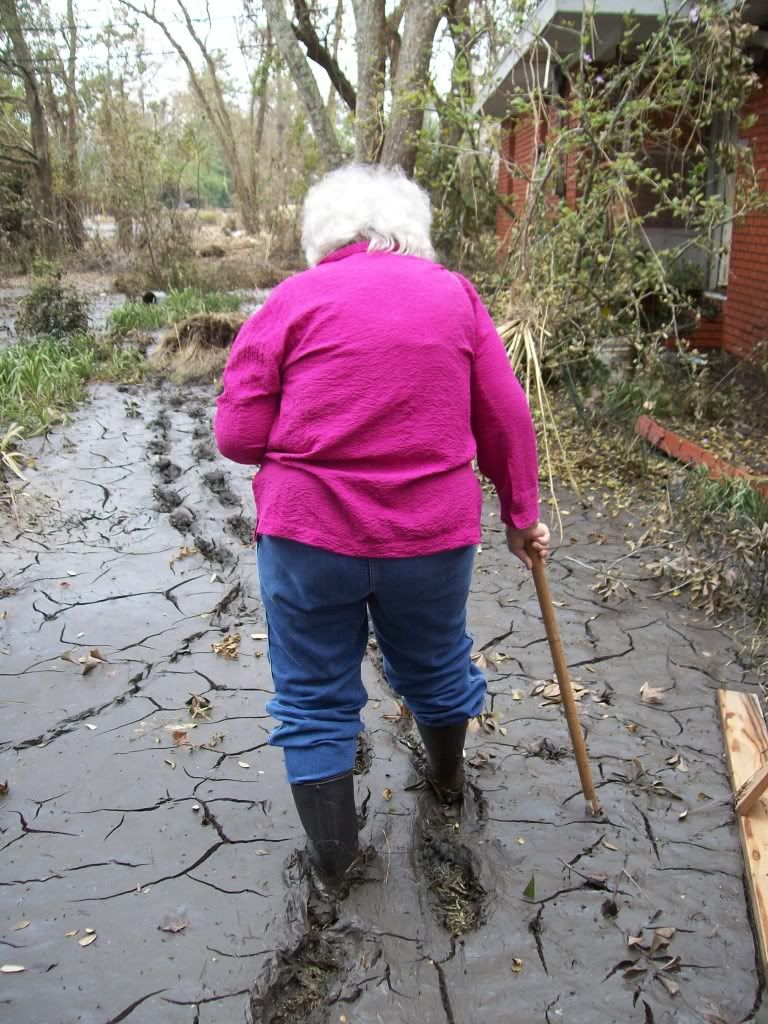 She rode out many floods and storms in her house Bridge City, Texas for over 34 years, never seeing so much as an inch of water dare to creep inside her door. So, when the enormous Hurricane Ike was threatening her neighborhood, she packed a little suitcase and went to her daughter Carol's home to ride out yet another of her life's storms, only to come back and find her house had gone under water to the ceiling in the surge.
Her house was as magical as any grandma's house ever was, redolent with the smells of chicken gumbo and lemon cake. Dazzling collections of colored glassware lined every inch of the windows on specially made shelves. The garden was a wonderland for the senses and imagination, full of fruit trees that made marvelous jams, and strange creatures that fascinated. She would slowly and quietly escort her grandchildren through it, barefoot, pointing out each leaf and blossom, telling us where she collected the seeds or cuttings from. She had morning glories from our very first California house in 1969, geraniums from a second house we had in 1976, and ginger plant grown from a root we gave her from a Hawaiian vacation we took in 1982. Her garden was where our memories lived.
She would ask if we wanted to see a frog, and then she'd turn a rock with her toe and lo and behold, there one would be. She was fast as lightning, snatching chameleon-like anole lizard from a branch, and bringing it down to our eye level. The slender lizard changing the color of it's skin from bright green to dark rust, angry at it's own self for underestimating the sharpness of her crinkled eyes and the swiftness of her wrinkled hand. She also had a big gun to shoot her enemies ... the dastardly armadillos that would tear up her garden at night.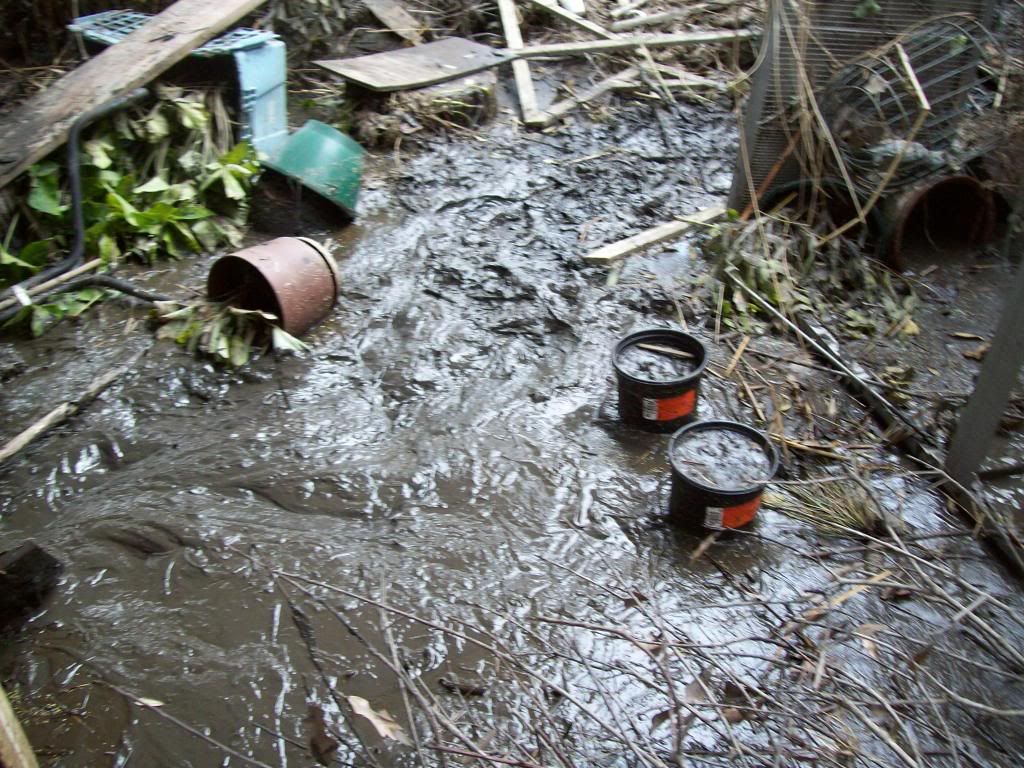 We took her back to her house two weeks after the storm had passed, to see what could be saved of her life there. Baby alligators slithered and flopped helplessly in what was left of her living room, poisoned by the rainbow-hued mud laced with toxins that coated everything in sight. The house and yard were nearly unrecognizable. Most of the plants and even the trees were dead and dying. The entire neighborhood stank of the swamp, death, and fear. No house escaped the 15 foot surge. TV crews were still patrolling the streets, looking for a good story in the aftermath.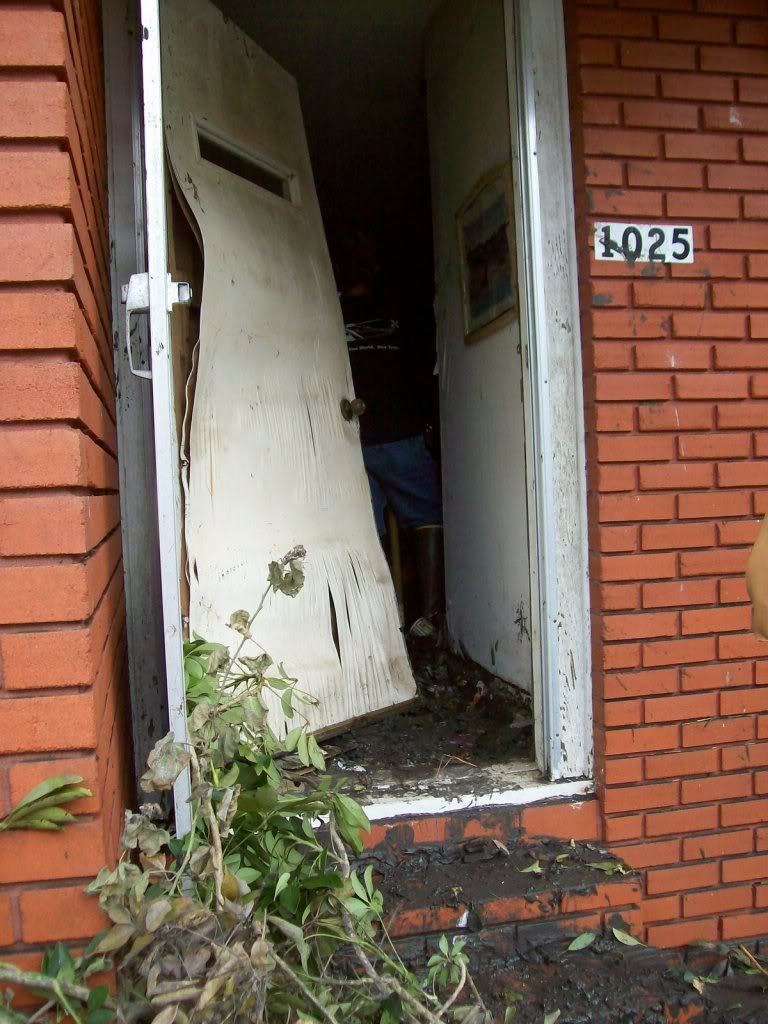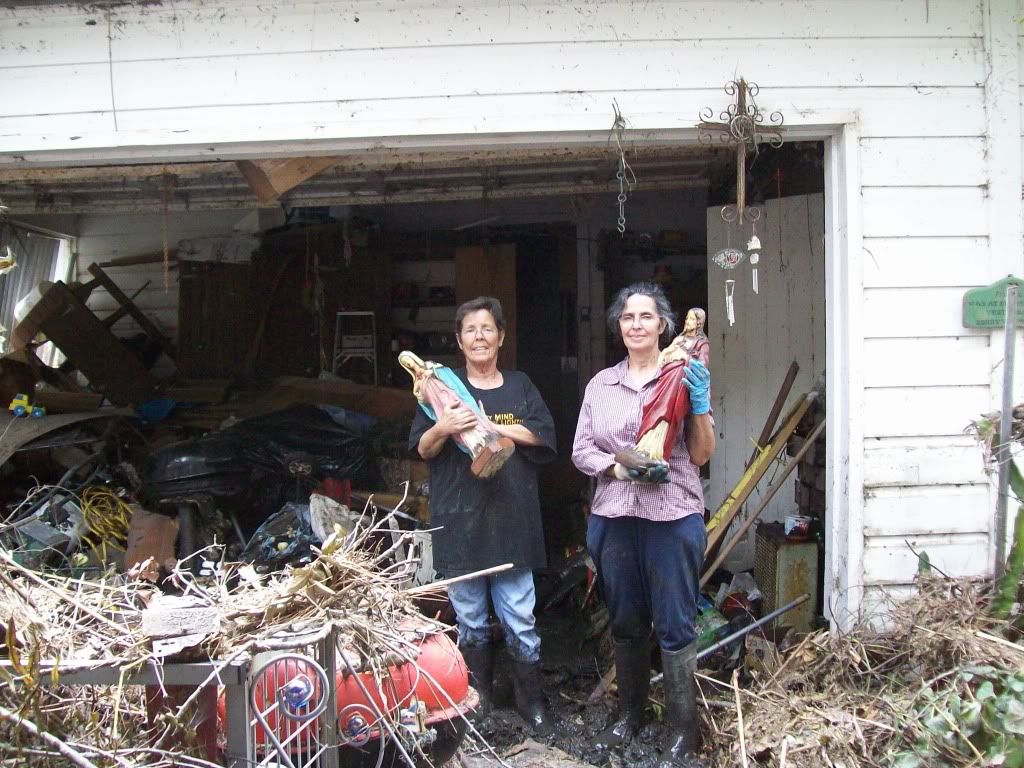 We found some of things we came for: a picture appliquéd to wood of my Uncle Johnny, who drowned when he was a child, a couple of statues of the Virgin Mary and Christ, a few intact pieces of my grandmother's colored glass, and the dog-eared recipe for her famous lemon cake, all buried in mud somehow miraculously undamaged. We marveled at the way her belongings had been displaced. A dining room chair was hung up near the top of an old pole lamp that used to shine down on the sewing machine that had made generations of our family's clothes. A book about Texas was still exactly where it belonged, on the up-ended coffee table.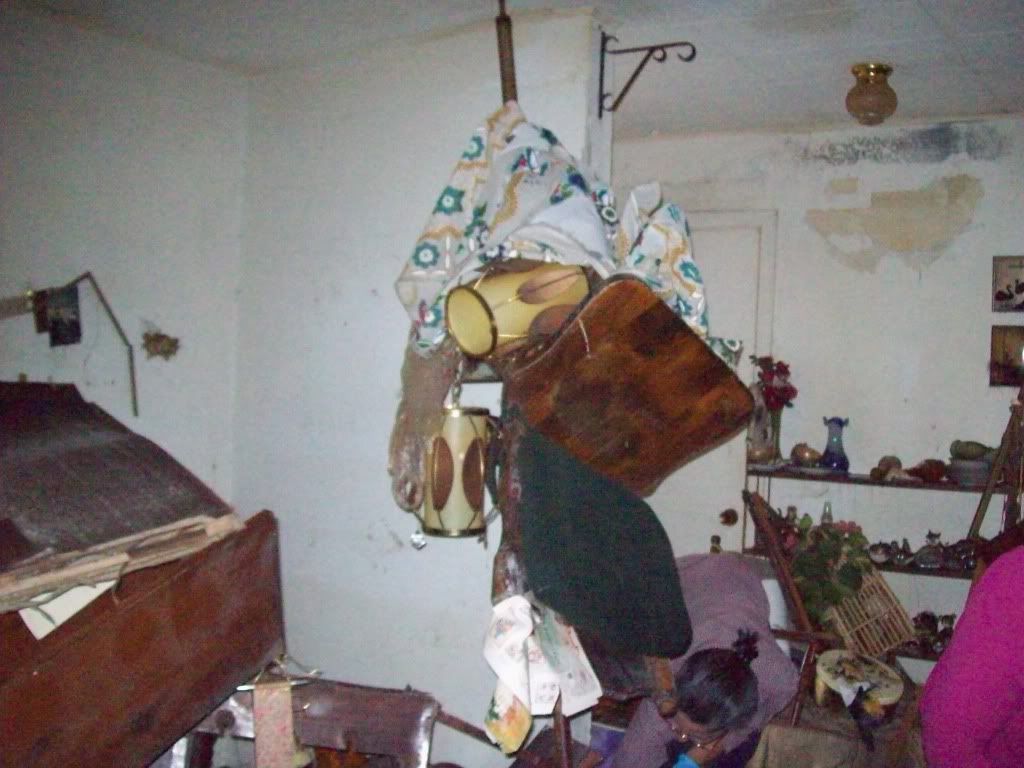 After half an hour of digging, the mud seemed to be eating at us, and made our skin burn. Everything made of metal was etched and stained beyond salvation. After only a few hours, we left, realizing our work crew of four women armed with gloves and shovels were worthless against such destruction. The trailer we had brought was empty. Only a quarter-full full trash bag of soggy items were retrieved.
The house was deemed a total loss, and as my Grandmother had recently canceled her insurance, so that was that. Her equity and nearly everything she's ever owned was gone forever. We had to put plan "B" into effect much sooner than we ever thought we would have to.
Plan "B" has been around for a while in our family. Everyone who has living parents who are getting-on in age has one. You know, the Just-In-Case-Momma-or-Daddy-Get-Sick Plan. Ours was, in case Grandma got sick or needed care, that we would turn the front half of my mom's farmhouse (which used to be my great-grandparent's farm) into an efficiency apartment. We never used that part of the house anyway. It was just a garage and a couple of catch-all rooms we utilized to work on projects in the winter when our workshop was too cold.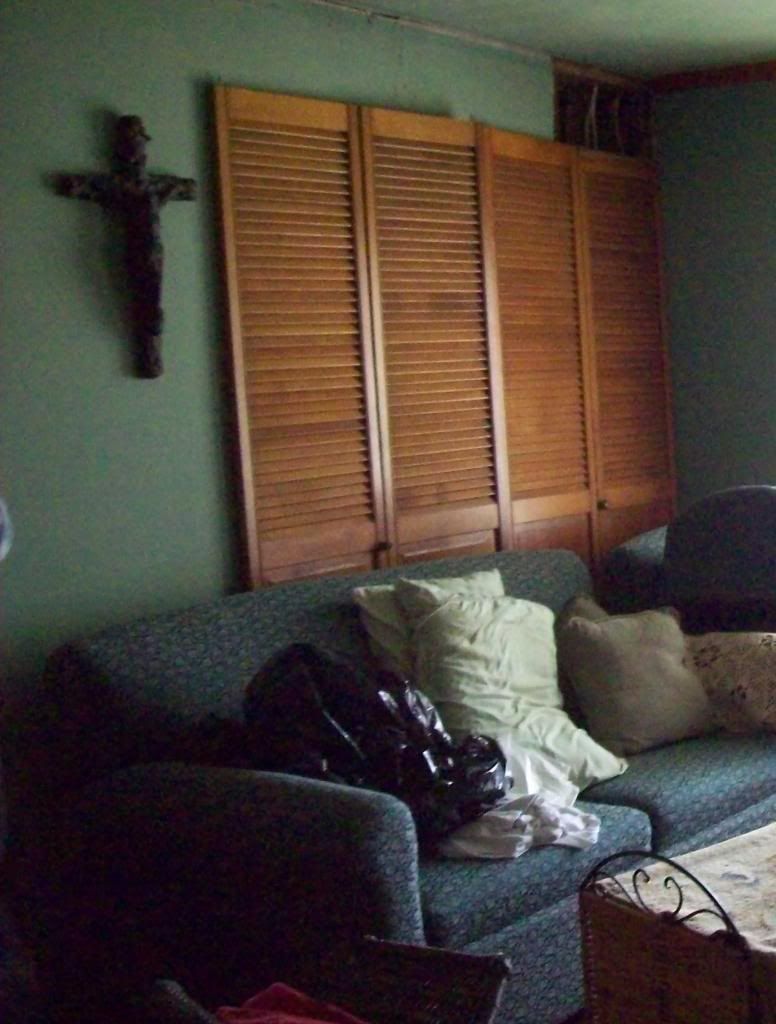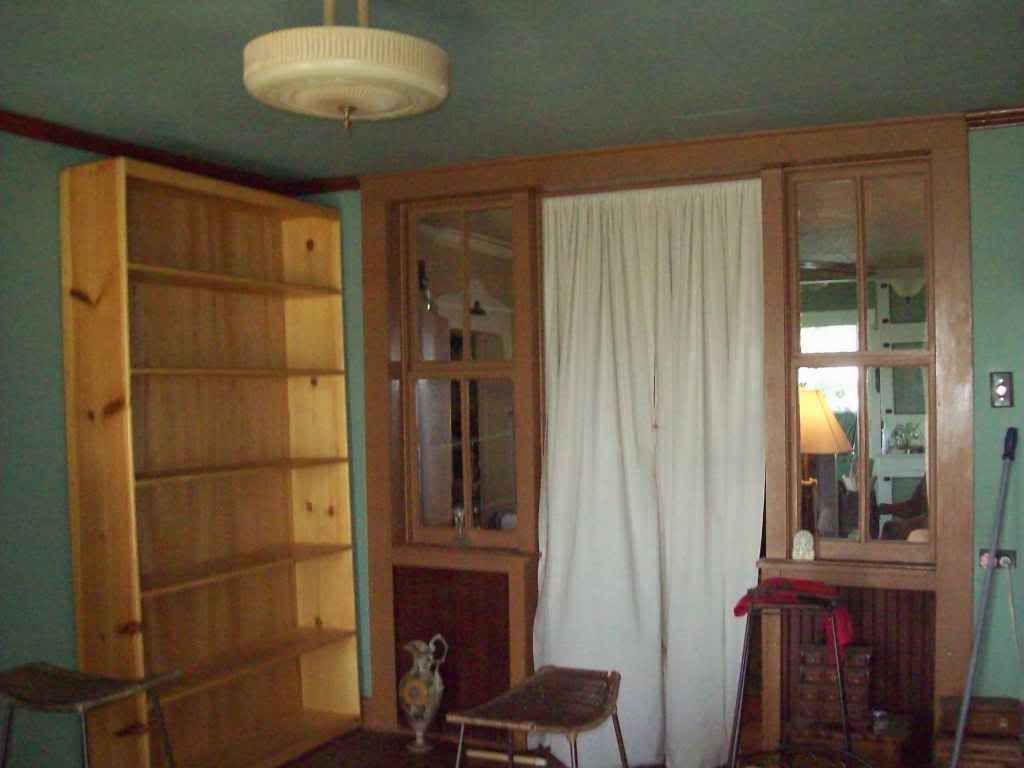 So while Grandma cried on the front steps, we attacked the neglected rooms with a vengeance and determination that only designers can muster that it would be a palace someday, even if it killed us, and it would be her tiny slice of heaven. She'd be happy again.
We put our all into creating miracles on our shoestring budget. Hers wasn't the only residence destroyed in our family on the Texas Coast. I lost a vacation house that my sister and her husband lived in and my dad also lost his house, so money was a big issue. Our main décor resource was the local church-owned thrift store, and we sifted through that shop with a fine-toothed comb, juicing our budget for all it was worth.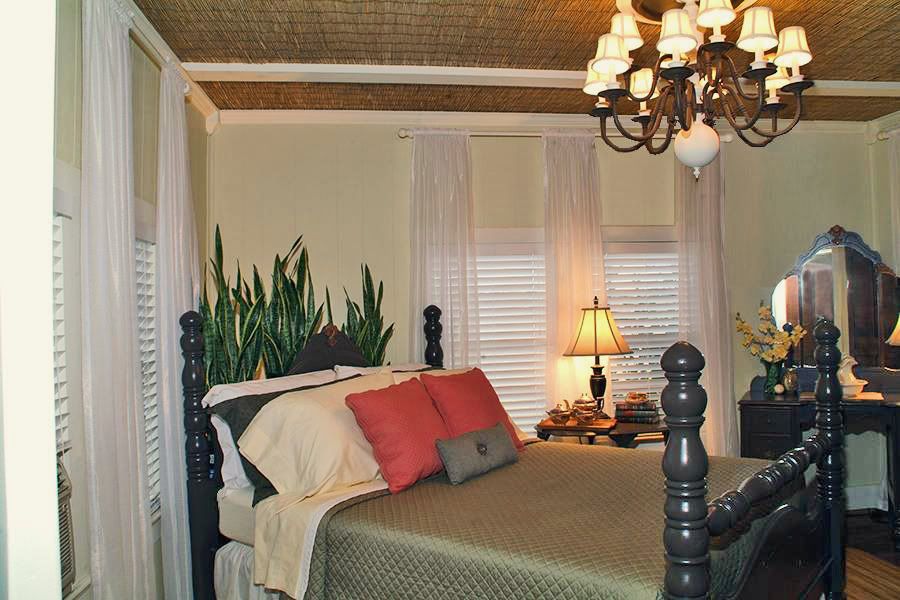 Her bedroom was top priority. We still had my grandmother's childhood bedroom set, and we chose to paint it, as well as the paneled walls. We added crown moldings and new lighting, and splurged on decadent bedding. A clever and cheap ceiling treatment of landscaping reed fencing gave the room an entirely different ambiance. The micro-tiny living room is open to the world's tiniest, but prettiest kitchenette, complete with concealed appliances behind salvaged & drastically shortened plantation shutters. We chopped up unusable furniture and turned them into perfect pieces for our purposes. We know what Dr. Frankenstein must have felt like.
Once those areas were under our belt, we split the one car garage and made a brand new bathroom with all the amenities, from scratch. We hit up every favor that was ever owed by friends and family, and soon enough, it was framed. Doors went into place, and plumbing and electrical got laid. We hit estate sales for some of the art, and searched old family photos of her former garden, blowing up the photos and framing them ourselves.
We transformed the potato house into a greenhouse with loads of old salvaged windows so she could entertain there in the spring, and keep her plants warm in the winter. Old metal chairs and the original front screen door went to the autobody shop for a makeover to dress up her front porch. Outside her front door she now has a gated patio garden sheltered by a custom-designed pergola where we once parked our cars.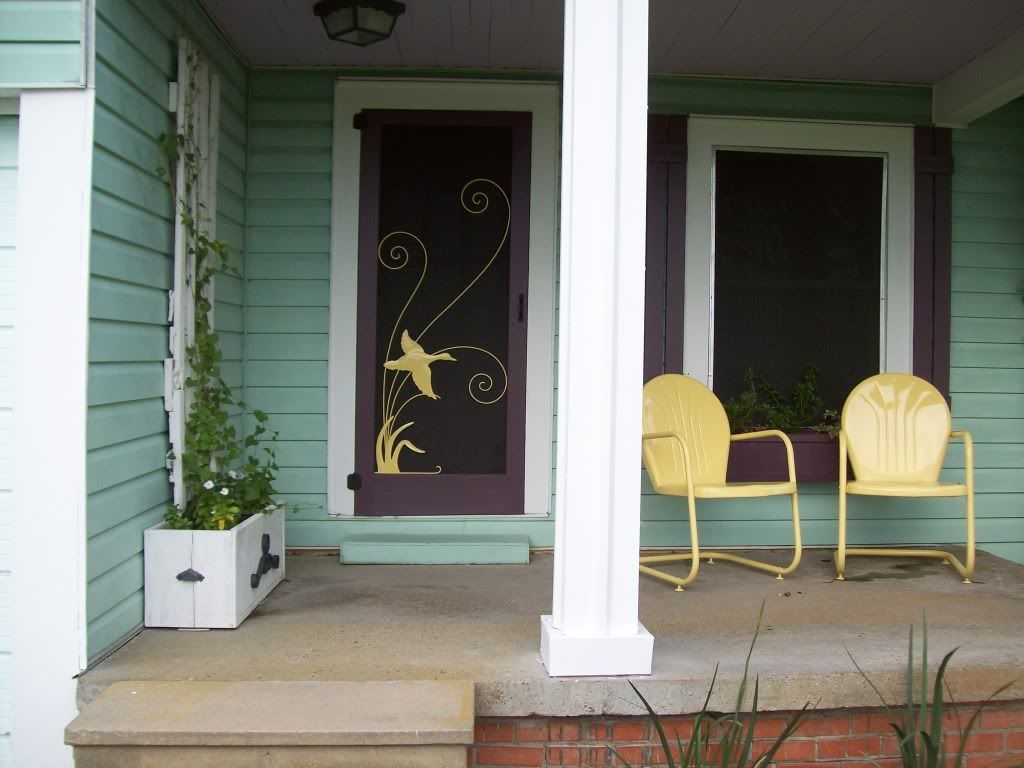 It is a fraction of the space she once had, but it is just for her, to sip her coffee, tend her flowers, walk around in her bare feet, and to impress the heck out her great and great-great grandchildren.