We are Manhattan New York Real Estate specialists, many serious buyers ask us a list of questions that are regards to the unique Manhattan New York condo markets. We will be answering these frequent asked questions and hope to help other buyers who are interested in buying or investing in Manhattan New York condominiums.
In Manhattan New York, over 15% of the housing inventory are condominiums, when a buyer purchase a unit within the condominium community, there are application to be completed. (with the exception of purchasing new development condos from the sponsor prior to condo board formed and in place.) Each building and condo management has different applications and processing fees. Every buyer whether they are buying as primary residence, second home, investment, will need to complete the 'sales or purchase application' when purchase Manhattan New York condos. There are processing and application fees along with the applications as well.
Here is example of a Manhattan New York condo purchase application from a condominium unit that we sold recently.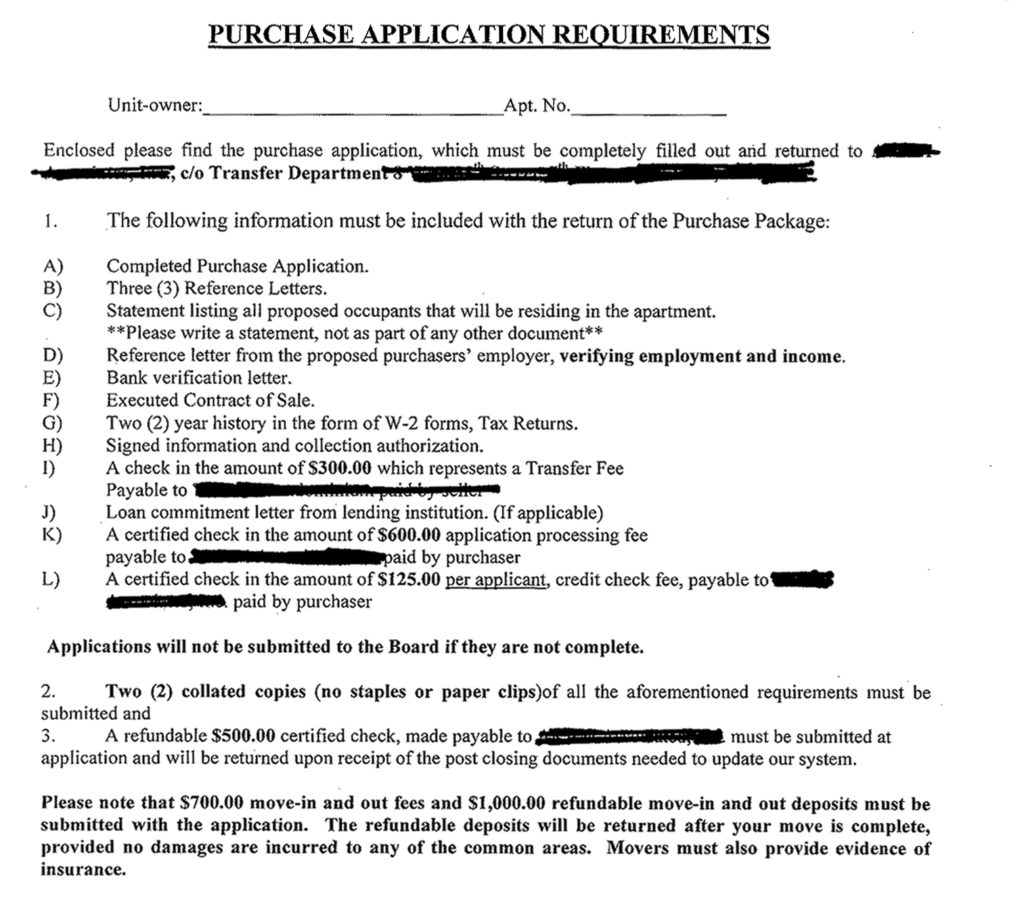 There will be personal, business and/or employer reference letters required from the buyer, two years of W-2 forms & tax returns, and bank verification letters along with other documents. The sales application must be completed according to instruction or the sales can not move forward. In case of oversea buyers, there may not be tax returns or W2 forms, we can then discuss in details with condo management to find other items or documents to suffice that request.
Other than providing all the paperwork documents, please take note that there are a list of checks that must be submitted in order to process the application. Each condo building has different list of fees but this serves as a sample for your record.
Each Manhattan New York condos has different sales or purchase application. We are familiar with the sales application process. If you or someone you know would like to buy or sell Manhattan New York condominiums, please call us directly today at (917) 837- 8869. We specialize in Manhattan New York condominium market and have experiences selling Manhattan New York condos in different neighborhoods, do not hesitate to call or email us to see if we can be of help to you.