#9 Mukilteo
WINNER
As West Coast towns go, Mukilteo (pronounced MUCK-ill-TEE-oh) is in good economic shape. Bank-owned homes represent a small fraction of houses on the market, and area employers, including Boeing, are hiring again. It has affordable homes by Seattle standards, good schools, and a killer location right on Puget Sound. And the town is spending to beef up its attractions: A new 29,000-square-foot community center debuted in February, and historic Lighthouse Park recently got a makeover. --S.M.
#18 Newcastle
The volunteer spirit is alive and well in this former coal-mining town 13 miles from Seattle. Despite serious budget cuts that threatened the city's summer 2011 events, local businesses and citizens offered time and cash to keep the community's concerts and fireworks afloat. There's a 350-acre golf course here, not to mention 12 parks; the 3,115-acre Cougar Mountain Wildland Park is right next door. Newcastle residents can jump on a trail in the city and end up in the "Issaquah Alps." Tech employers such as Microsoft are almost as easily accessible. --A.W.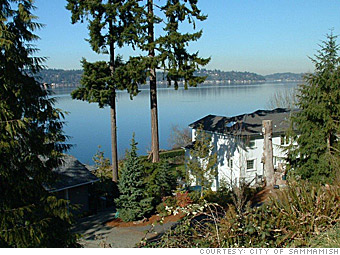 If you're looking for the Pacific Northwest ideal--snow-capped mountains and scenic lakes--Sammamish might be for you. Puget Sound and ski resorts are both an hour from this affluent Seattle suburb. High-tech employers in the area include Boeing, Amazon, and Microsoft, which is headquartered just 15 minutes away. Incorporated just over a decade ago, Sammamish still doesn't have a real center where the community can gather. But local officials are working on a new downtown with retail, recreation, and town services. --A.W.