Real Estate Update for Westhaven Subdivision January 2012
The real estate market in Westhaven is not hard to judge as you can drive through the neighborhood and witness multiple new homes under various stages of construction and in various price ranges. Some of these homes are pre-sales and some are speculation homes built by the builders. One of the new projects undertaken by SouthernLand Company is the construction of new condo flats offering a single floor living on 3 various floors with an integrated elevator and a great view overlooking the lake.
Review the Grumbles Team Proprietary Total Market Overview below and you will see that there is currently 6.2 months of inventoru inside of Westhaven and that there are elevated PENDING rates. The average list price is $552,000 and the average sales price over the past 6 months is $523,000.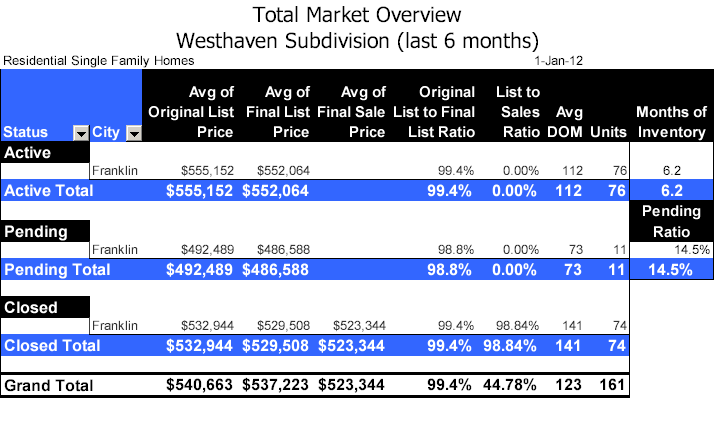 To see how the Median sales price has fluctuated over 2011, the chart below illustrates that the trend has been an increase of about $30,000 as the year progressed although the trend si spiking down now from a high peak in June 2011. I believe that these median home prices are increased from so many new construction sales in the neighborhood and not from appreciation.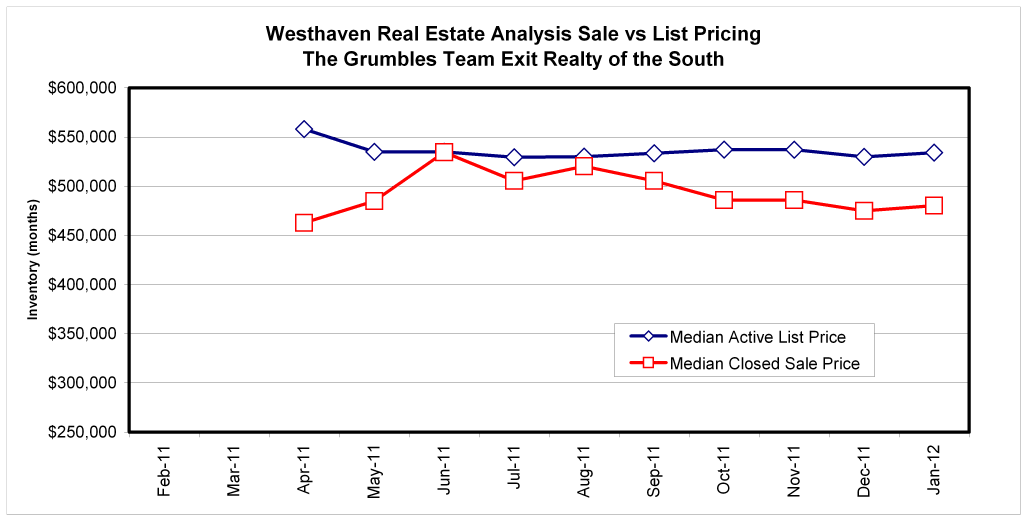 The Westhaven Subdivision housing market is still strong and even more so at the end of the year than during the summer months.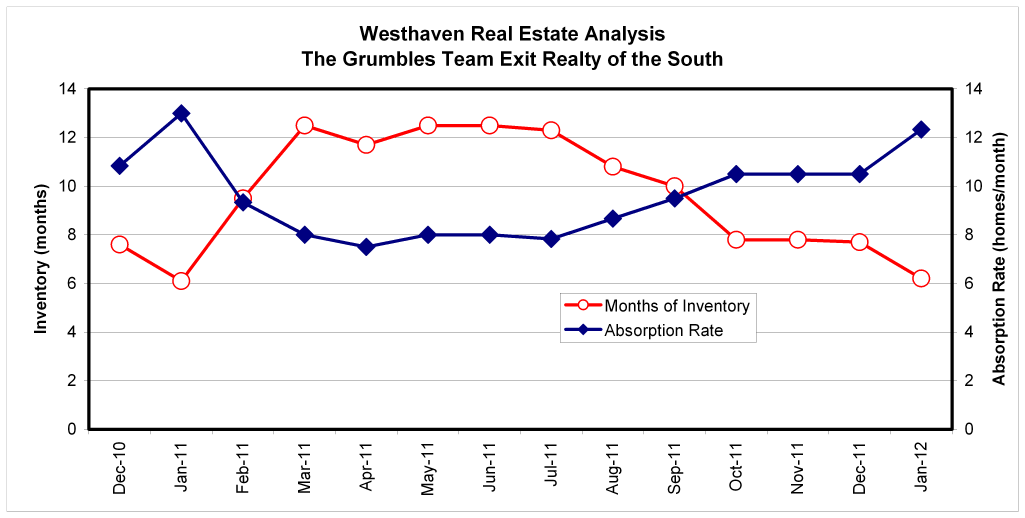 To keep updated on Westhaven subdivision real estae market follow us on the social media outlets below.
Franklin | Brentwood | Spring Hill | Mike Grumbles & The Grumbles Team specializing in Franklin TN Community Homes for Sale
The Grumbles Team is our family serving your family with your real estate needs in Franklin, Tennessee 615-587-5843.
Your Williamson County REALTOR!
EXIT Realty of the South | 1227 Lakeview Dr. Suite 1 | Franklin | TN | 37067 | 615.550.5555
Williamson County Real Estate Agent
Each EXIT Office Independently Owned and Operated
WithEXIT: http://www.withexit.com/apps/blog/show/11463269-real-estate-update-for-westhaven-subdivision-january-2012
Exit Mid-Atlantic:http://www.exitmid-atlantic.com/apps/blog/show/11463451-real-estate-update-for-westhaven-subdivision-january-2012
HubRec:http://www.hubrec.com/apps/blog/show/11463486-real-estate-update-for-westhaven-subdivision-january-2012
ActiveRain:
Trulia:
Realtown:
MerchantCircle:
GreaterTown: