Sunday Morning on CBS is one of my favorite programs. They always have a series
of interesting stories from around the US, people to see and places to go!
I hope to pass on a little of the same........
NEW HAMPSHIRE SUNDAY MORNING
~~~~~~~~~~~~~~~~~~~~~~~~~~~~~~~
Exploring this wonderful State of New Hampshire is something my husband and I never tire of! There are so many diverse attractions and ever-changing landscapes...the possibilities are endless!
VETERANS DAY TRIBUTE

Traveling West on Routes 202/9 will bring you to one of the most scenic areas of our State. Picking up Route # 119 takes us to the town of Rindge .
Rindge is the home of Franklin Pierce University. It is also the location for one of the most interesting of Tourist Sites, the nation's only Memorial dedicated to all peoples, military and civilian, who have lived to promote the cause of Peace and who have sacrificed their lives in Service to their Country and their God -The Cathedral of the Pines.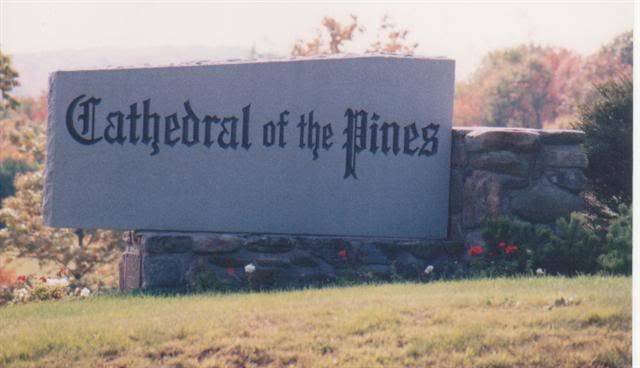 This cathedral without walls is over 200 acres of pine forests and formal gardens. WWII and a personal family loss by the Sloane Family (family upon whose land the site exists) was the driving force behind the creation of what is now called the Alter of the Nation.
The Alter of the Nation is an open -air "cathedral" available to all people for prayer and meditation.
In 1946 the stone alter was completed . In 1950 it was rededicated as a memorial to all American war dead. The Alter is made up of donated stones that come from various battlefields and every State and territory of the United States.
Perhaps the most outstanding and interesting structure at The Cathedral is the Women's Memorial Bell Tower. This tower was built in 1963 and its official dedication was in 1967. It is the only national memorial built to specifically honor the patriotism of American women. This impressive 55-foot tower
stands at the entrance. There are four arch ways and over each is a bronze plaque designed by Norman Rockwell. Each bas relief depicts not only those in uniform but those who served in other roles as well (Pioneers,Armed Forces, Red Cross, Salvation Army and those who served at home)- At the center of the tower is a granite fountain portraying the "Waters of Life", out of the waters rises the Tree of Life signifying the stamina , strength of character, determination and courage of Women.
The Cathedral is open daily from
May through October and is available for weddings, memorial services, religious services for all faiths and other special events. They hold public services each Easter, Memorial Day and Veteran'sDay. They also have a Museum and Gift Shop.
The Cathedral of The Pines is truly a unique and little known attraction...that is well worth a visit!
~~~~~~~~~~~~~~~~~~~~~~~~~~~~~~~~~~~~~~~~~~~~~~~~~~~~~~~~~~~~
Come travel the roads of New Hampshire . There are wonderful examples of our history around every corner!
Concord NH Realtor Area Information