Ready to update the kitchen in your Montgomery AL home? Whether the renovation is for the purpose of increasing resale value or for your own personal use and enjoyment, it never hurts to know what the building industry sees as sustainable, in-demand, cost-effective, and efficient improvements for one of the most important rooms in your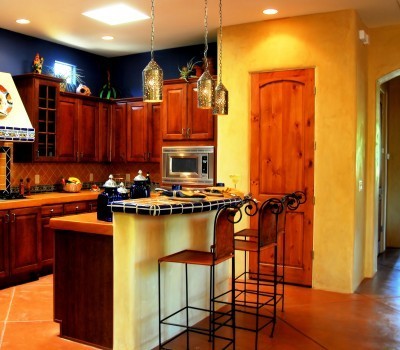 Montgomery AL home. As American lifestyles change, so do the needs and desires of your family members and/or potential buyers, especially in the areas of appliances, flooring, lighting, counter tops and backsplashes, cabinetry, energy efficiency, and color.
An energy-efficient and functional design is extremely popular right now. Function, maintenance, and appearance should be combined to provide a streamlined look, adequate storage, easy accessibility, maximum dining, prep space, and a welcoming appearance. More and more homeowners are opting for removal of walls to make the kitchen more open and family-friendly
Hardwood floors are still desirable, as are those made of renewable bamboo and cork. Stone and porcelain tiles are also in demand because of their longevity, easy maintenance, and the availability of a wide variety of shapes and designs. Some tiles even look like wood and come in plank configurations.
Practical and attractive are the order of the day for this feature. Cabinets are available in recycled materials and exotic woods, and darker woods are in demand. Mixing materials, such as glass and wood or two different types of wood or wood stains, has become popular in remodeled or brand new kitchens. Desired cabinetry features include many drawers, swing-out shelves, pull outs (for dishes, pots and pans, and bake ware, e.g.) and drawer organizers.
Granite is still the most popular material, but engineered surfaces are often used instead. Many kitchens of today feature island/peninsula combinations or dual or tiered islands to allow more than adequate space for food preparation, storage, and family dining.
No longer simply a feature to protect the kitchen walls in your Montgomery AL real estate, homeowners are now using this area to add color and decoration. Glass tiles in a wide array of hues, especially those made from recycled glass, are predominant this year and allow you easy maintenance and a way to express your own style.
The integration of appliances into the cabinetry is big for 201, and, of course, all appliances must be energy-efficient! Stainless steel remains the preferred finish.
LED lights are the choice of the safety and energy conscious owner of Montgomery AL real estate. Layers of light, including ceiling, under-the-counter, and ambient lighting, are being combined to illuminate kitchens. Pendant lighting is increasingly popular.
Wallpaper is back! Often paintable and washable, wall paper can be metallic, hand-painted, tone on tone, patterned, and textured and is now being used to decorate entire rooms rather than just an accent wall. Paint colors? Try out the deep colors of dark grey, grape, navy, or forest green.
Search all Montgomery AL Real Estate And Homes For Sale.
Sandra Nickel and the Hat Team have distinguished themselves as leaders in the Montgomery AL real estate market. Sandra assists buyers looking for Montgomery real estate for sale and aggressively markets Montgomery AL homes for sale. Sandra is also an expert in helping families avoid foreclosure through short sales and is committed to helping families in financial hardship find options. For more information you can visit AvoidForeclosureMontgomery.com.
You can reach Sandra by filling out the online contact form below or give her a call anytime.