RALEIGH NC - New Home Sales Rise
Raleigh NC - New home sales rise
according to Builder Local Market an On-Line Newsletter for local Builders.
Good news for our local Triangle Real Estate Market. While home building has stopped in most parts of the country the Raleigh NC
market which included the ever popular Cary is growing.
Why? We have
thriving business
base,
Research Triangle Park
, multiple large universities (
NCSU
, UNC, DUKE), and a growing Downtown, and quality
schools
. This formula has made the Triangle a destination for families.
Market Share of Home Sales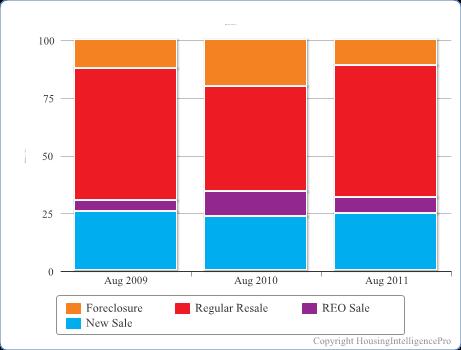 In the Raleigh, NC market new home sales grew year-over-year in October, and the percentage hike was greater than September 2011, giving hints of improving market conditions. New home sales saw a hike of 15.9% from the year earlier to 371. This came after a 7.7% rise year-over-year in September.
A total of 4,060 new homes were sold during the 12 months that ended in October, up from 4,009 for the year that ended in September.
Of 1,152 total sales, 371 were of new homes. This is a surge from 28.2% of sales a year earlier. Sales of new and existing homes rose year-over-year in October after also rising in September year-over-year.
Pricing and Mortgage Trends
The average per-unit price of new homes increased in October to $264,033, up by 1.3% from a year earlier. This is a reversal from the 2.0% decline in September from a year earlier.
For newly sold homes, the average mortgage size declined year-over-year in contrast to average price of new homes. In October 2011, there was a 9.2% decline in the average mortgage size on new homes to $222,679. Average mortgage size slid 11.7% in September 2011 from a year earlier. Of the overall sale price, the percentage that was being financed slipped 9.7 percentage points year-over-year to 84.3% in October 2011.
Finish reading this article and see an additional 15 charts and graphs on Raleigh-Cary, NC.
Are you looking for a REALTOR that is:
a former teacher that knows the schools system

has lived in the area for over 15 years
has the expertise to get the job done?
Let me GOOGLE one for you! - click here

Raleigh NC - New Home Sales Rise
was first published on
CaryRealEstateBlogger.com
- a Blog by
Linda Lohman