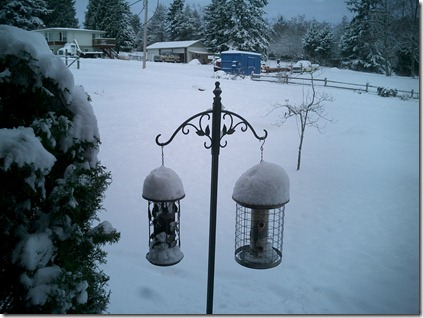 My husband, the amateur weatherman, has been obsessively following the build-up to the "Megastorm" of decades, currently predicted for our greater Seattle region. We've been watching for days, experiencing a bit of snow here, and a bit of snow there. At our home in east Auburn, so far we've accumulated a couple of inches, which largely went away today even through additional flurries of wet heavy snow.
I grew up in Seattle and remember a few good-sized snow storms from my childhood; even one or two while raising our own children. This storm, however, is expected to dump somewhere between 12- and 18-inches in our yard, according to the "Futurecast" radar displayed on one of our local news sites, KIRO7. That's a significant amount of snow. Significant!
According to AccuWeather, the history of great Seattle snowstorms is as follows:
Jan. 5-9, 1880: Est. 36.0" with 6-foot drifts

Jan. 31-Feb. 3, 1916: 33.4"

Jan. 26-31, 1969: 30.7"

Jan. 12-15, 1950: 26.8"

Dec. 23-27, 1965: 14.9"

Dec. 30-31, 1968: 13.0"

Jan. 23-26, 1972: 12.6"

Jan. 25-26, 1950: 12.4"

Dec. 26-27, 1974: 9.8"

Nov. 20-22, 1985: 9.4"

Nov. 27, 1985: 7.6"
Twelve-to-eighteen inches. I'm expecting the roof to be fine, but I'm thinking the tarp-type carport under which we park our riding lawnmower and various "stuffs" to probably take a hit. We've brought pellets for the stove into the garage. The chickens are safely ensconced in their coop with plenty of food and water. The dogs are oblivious, but will love it. The cat? Well, we may have to hand-carry him out now and then to visit the kitty potty.
Twelve-to-eighteen inches, followed by rain. It should be exciting!