Should we use Price per Square Foot to derive our purchase/listing prices?
The Price per Square Foot generated from MLS provides an average Sold Price per Square foot for selected sold properties and average Listed Price per Square foot for selected Active and Pending properties.
No absolutely not. The Price per Square Foot generated CMA does not account for many factors that are important and should be included in a real CMA such as: condition of the house, upgrades, age, builders, size, layouts and floor plan, location of the house in neighborhood, and many more. All these factors need to be adjusted for all properties to match with the subject property.
Assuming all other factor are the same, Price per Square Foot could be used as guideline but not enforce or derive the purchase price or listing price. See the following example
Size Square Footage: Buy size and layout I mean you should not compare for example the $price per square foot for a condo with 600 Sq Ft with another condo having 1300 Sq Ft. This needs adjustment.
Assuming all other factors are the same; the smaller size houses, condos, etc. always have much more price/sq ft. than larger size house. The one-story houses always have more price/sq ft. than 2- or 3-story houses.
The shape and layouts: Are important too. Assuming all other factors including Square Footage are the same; the floor plan, layouts and useable spaces are big factors and needs to be adjusted. For example: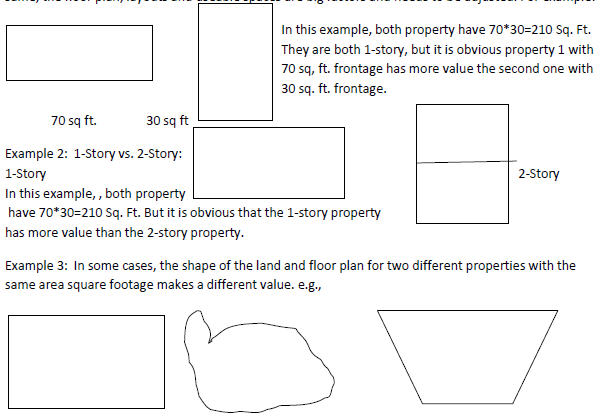 They all have different values and depending the usage, view, etc could be higher or lower values.

What is the solution?
All these discrepancies and difference should manually be adjusted for each compared property to bring all properties to the same level for comparison purposes.
How to adjust values? The adjustment values are different for each type of property, location, price range, type of addition or deletion, etc. Try to talk to your local appraisal to get the latest number in your area. You may visit my website
www.TexasFiveStarRealty.com or click here to see some suggested adjustments value for properties in north Texas.