Last night we had our long planned for 2cd Annual PIC Charity Auction Fund-Raiser. It was held at the Plasuwa Country Club in Pembroke, New Hampshire. I don't know yet how much money we raised but I do know we really had a Blast!
This years venue was more conducive to a fun evening.
It was smaller (seats about 100) and with the tablecloths, candles and flowers it was a very warm and friendly atmosphere!
There was a very nice Buffet and a Cash Bar. We had several raffles (always popular) even a 50/50...cash draws them in every time!
Terre Brownell of Arrow Auctions was our Auctioneer. Terre
generously donated his time last year too. The crowd absolutely loves him his banter and wit are completely entertaining and he can nudge an extra dollar out of the tightest of wallets!
We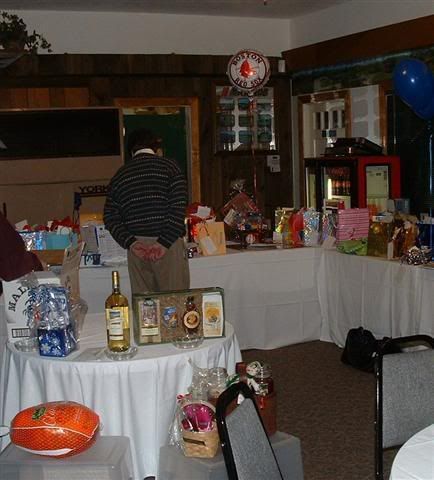 had lots of really fun items. The most popular were the Weekend Overnites at Various Hotels and Dining Certificates. There was a whole lot of
variety to choose from
Even tickets to the Boston Ballet and The Blue Man Group.
The Signed Red Sox Baseball did very well but the best selling item of the evening was the Personal Chef, Dinner for 8, served in your own home. The dinner was donated
by My Brother a Chef in Maine. The Servers will be the PIC Executive Director and Me (I'm the Board Chair). I was thrilled that it was the highest bid item........ This is the rowdy group that bought us!
There was one stipulation I must vehemently disagree with, they want us to dress as French Maids... Problem??
I AIN'T NO FRENCH MAID
Concord NH Realtor Local Information