Plaza De Flores - Palmer Ranch, Sarasota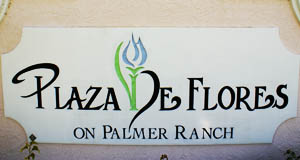 Some dazzling property finds await at Plaza de Flores on Palmer Ranch, an enclave composed of 200 condominium units that are not mere blips on the radar screen of the Sarasota Florida real estate market. Plaza de Flores homes for sale indeed continuously generate excitement among investors and home buyers. As one of the 30 communities of Palmer Ranch, these residences enjoy a prime location and reputation as well.
The development of the 10,000-acre Palmer Ranch began in the mid-1980s and is still growing. It is surrounded by infrastructures which support its existing communities and its future growth. Among these are major highways like I-75, Clark Road and US 41 (Tamiami Trail). Public works, such as road expansion or lane addition, are also in the pipeline to provide continuing support to projects in the Palmer Ranch development, which is the largest in Sarasota County.
With the extensive road network around the Plaza de Flores real estate, its residents have fast and easy access to the modern-day conveniences in not only in Sarasota City but also in suburban southwest Florida metropolitan centers. In fact, driving beyond an hour isn't necessary for dining, shopping, and entertainment.
The Sarasota Square Mall is only a short distance away on the eastern boundary of the Palmer Ranch complex. For daily necessities, Plaza de Flores residents can take a leisurely walk to a nearby shopping center within their immediate vicinity.
Strolling around the Plaza de Flores neighborhood is a delightful experience. For one thing, the condominium grounds come with exquisite landscaping, two scenic lakes, fountains, and pergolas which afford shade as well as a pleasant tropical ambience.
This laid-back lifestyle in Plaza de Flores can be most felt at its cozy clubhouse with a community pool, a fitness center, tennis courts, and amenities for socials and parties. Two Palmer Ranch golf communities, Prestancia and Stoneybrook, and the Country Club of Sarasota offer still more lifestyle options.
Price points of Plaza de Flores real estate for sale reflect these great values behind the condo units and present a mix to suit different housing needs. Options can range from one-bedroom to three-bedroom condos at floor spaces of between 957 and 1,319 square feet. Asking prices of sales listed Plaza de Flores homes can start in the low $100s with the more spacious units having tag prices in the mid-$100s, levels that can be within the budget of many condo buyers.