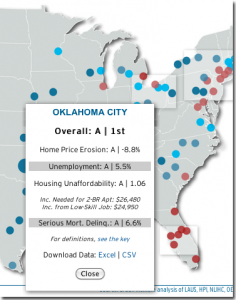 Report card time's always a little unnerving isn't it? Will I be at the top, the bottom, or somewhere around average? What grade do you think our great city would earn? Better question; would you be at all surprised to find out that Oklahoma City got an A+ and ranked first out of the Top 100 Metros? I know I'm not surprised, but somehow, some folks still seem to miss just how great we have it here. According to MetroTrends.org,
Metropolitan Oklahoma City's diverse economy – including government, universities, energy, and high-tech firms -- has held up well in the Great Recession. It didn't fall victim to the housing boom and bust (2000 to 2007), so rents and house prices today are remarkably affordable and few homeowners are facing foreclosure. And the region scores high on lots of "top ten" lists -- most affordable (Forbes), most recession-proof (Forbes), and best to start a small business (Fortune Small Business).
Click through to see the entire ranking of the Top 100 Metros.
**Originally posted on ShowMeOKC.com, where you'll find out more about Oklahoma City, Edmond, Moore, and beyond.