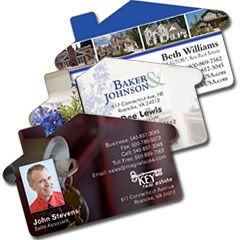 "Wow. That's a nice business card."
When you hear that, you know you have made an impression.
Probably the most important marketing piece you will ever produce is your business card. It is often the first thing your clients see from you. Yet so many people overlook the amazing opportunity that is presented by the humble business card.
At Magnets USA we formed a special task force to look at how we could embolden your business cards. Our new special die-cut business cards are a low cost, high impact way to market your practice. With diecuts ranging from classic to roofline, you'll find the perfect shape to help you shape a brighter sales forecast. Click here to see a slideshow of the cool designs we can offer your real estate practice.
We also offer professional design services to give your business card the right look and balance.
If you're ready to order, we're just a click away. You can get it done online today and have your new, bolder business cards ready to hand out in just a matter of days.