Jay and I are pretty excited about the fact that the company we work for, Prudential Verani Realty recognizes the power of the Internet. While the company is not totally into web 2.0 yet it is taking some big steps in that direction. They've announced some cool changes that will make our job much easier…I'm lovin these changes.
One of the most important changes taking place is regarding the distribution of our listings to various real estate websites. One of the latest surveys indicates that a whooping 88% ( I really think higher) of potential home-buyers start their search on the web.
Not news to us, as Jay and I have known this for long time, which is why a year ago we started blogging and stepped up our efforts to increase our Internet presence.
At that time we were the ONLY real estate agents blogging in our market place and in our company. In fact there was only one other active real estate blogger in the entire state of New Hampshire, Ann Cummings, and she is from Portsmouth.
The three of us NH Bloggers learned the ropes together, by trial and error. I affectionately call Ann a Blogging diva...she saw the changes and started blogging well before any agents in her market even understood what the word blog meant.
Now a year later there are probably a handful or two ACTIVE real estate bloggers in New Hampshire and maybe a couple of hundred who have blog profile pages but have never once blogged. Their loss! Or yours if one of them is your agent.
So Wooo Hooo check out these additions… 2008 is gonna be a wild real estate ride…is your agent ready? Are they competing with the Internet or partnering with it? That's an important question to ask.
Check out these very cool additions…some of our new and existing sites that receive feeds of our listings.

These marketing efforts will truly enhance our efforts...so if you're thinking of buying or selling….blah blah blah…you know the drill call us.
Remember we wake up unemployed every morning so we really appreciate your business and referrals.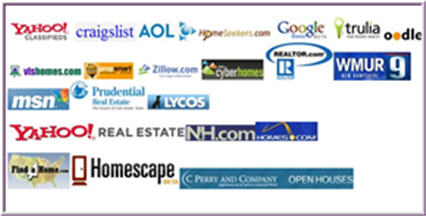 Serving Southern New Hampshire and Rockingham County

Monika McGillicuddy Real Estate Training

NewHampshireRealEstateBlog.com

603-548-7728