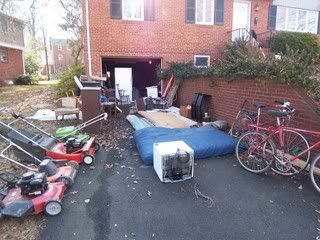 So you have a client with a house full of JUNK?
You've considered calling one of those 1-800-PAY-US-TO-HAUL-YOUR-JUNK places?
No need! Try this...
My mother is selling her 25 year rental. The garage was FULL of crap. A pack rat to say the least.
Instead of calling a hauling place, I took at hour to drag it all into the driveway. Then I took detailed photos of each item. Using PicasaWeb, I was able to make an online photo album in minutes. (see my album, I removed things as they were taken)
Then I went to Craigslist and posted in their FREE section: > 50 FREE Items Including Old TV, Carpet, Bikes, LawnMowers.
1) The body of the email listed all the images (good for people searching for particular items).
2) Then I told people to email me for an address and to tell me what they wanted. This way I could guage what was already taken. Also I didn't like putting my address online.
3) I said everything was 1st come, 1st serve. No need to knock, all I asked is that they email me what they took and what was left. I was 10 miles away and couldn't tell what was available for others that emailed me)
The results were amazing. 20 emails and 80% of the garbage is gone in 3 hours!
Here is one happy camper:

Written by Frank Borges LL0SA- Broker FranklyRealty.com