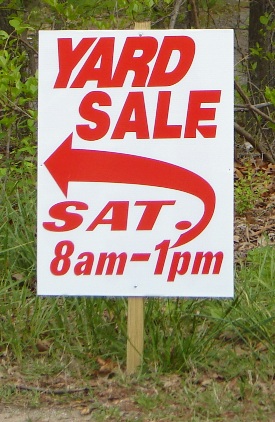 Spring is a great time to go through your house and get rid of that clutter and stuff you don't use any more.  A yard sale is one way to get the stuff out of your house and make some money in the process ...
Here are some tips to help you have a successful yard sale:
A group sale is better than on your own ... more stuff draws more people.  If this isn't practical, you still can have a successful sale if you plan and prepare for your sale.
1. Be prepared - start weeks before you plan to hold your sale to gather your stuff.  If you have an area where you can keep your stuff while you prepare, this is ideal - a corner in your basement, garage or a room where there's little traffic will work.
2. A good rule of thumb for getting rid of stuff - if you haven't used it for a year or more - you probably don't need it.  This is hard for some people (such as my husband who won't get rid of anything). 
3. Plan the layout of your tables and where you'll set things up.
4. Get your yard sale signs up about a week before your sale.  Make sure your signs are easily readable from the road.  Place your signs in key locations to drive traffic to your sale.  Don't forget to advertize in your local paper.  Make sure you advertise when the sale starts and ends.  Be prepared for early birds - if you don't, you'll be caught off guard.
5. Don't forget to get some cash to provide change for customers.  You'll want to have coins and dollar bills.
6. Gather bags for you to put your customers purchases in.
7. Price things carefully - priced too high, it won't sell.  I tend to price things to sell, because my goal is to sell the stuff.
8. Lable things well - and be prepared to negotiate.  Be willing to bargain, particularly towards the end of your sale.
9. Be friendly but don't be too chatty - you want them to shop, not chat.
10. Don't bad mouth your stuff - you want to sell the stuff - but be honest.  If it doesn't work, tell them.
11. Promote expensive items since these can be tough to sell.  Make sure to include as much information you can about the item and display it prominately so people will see it.
12. Have electrical power available so customers can test the item before purchasing.
13. A table of "Free Stuff" is a welcome sight for customers and is a good way to get rid of stuff that isn't worth much.
14. About 2 hours before the end of your sale - start making price reductions.  You don't want to have to lug the stuff back into your house.
15. Keep your money on you or have someone sitting with the cash box at all times.
16. When your sale ends - what are you going to do with the stuff?  Haul it back into your house?  I recommend donating the stuff to your local Goodwill, Salvation Army or other charitible organization.
Over the years I have held numerous yard sales - generating anwhere from a couple of hundred dollars to over $500.
I've found a one day sale seems to be best - the second day of a sale is often very slow. 
A little bit of planning and organizing can produce a very successful yard sale AND clear your house of unwanted clutter.
Happy Yard Selling!