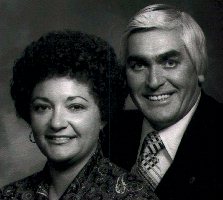 We were half way through the month of May in 1990 and my father was lying in the hospital dying from Emphysema. He asked me to come over to his bedside as he needed to tell me something very important. I leaned over and sat at the edge of his bed while he said in a soft voice that I should know what my birth name is. I really don't remember ever asking what it might be before but deep in the back of my mind it sounded a little familiar. Holger Rainer Bezold is what he said, I remember the tears welling up inside me as I tried to fight them back. I was 35 at the time and real men don't cry, not this guy anyways.
He also wanted to let me know that my mother had my adoption papers. My dad passed away on May 17, 1990 and I think of him everyday and one of the things he taught me was how to sell real estate and how to always follow the "Golden Rule".
As the years passed by I never felt the burning desire to try and find my birth mother. I think it was in the back of mind but I just never really gave it much thought. At that time we were in a downturn in the Real Estate market and I had enough to think about just trying to survive.
Sometime around the mid to late nineties I did a search on the internet using my birth name. When I keyed my name in I was directed to a web page that I really didn't want to visit. While it cracked me up, it turned me off for quite a while on searching my birth name.
Then in 2002 we had clients offer us 2 weeks in Aruba for all the work we did selling their house. 911 was less than a year old and I needed to try and get a passport so we could travel without a hassle. I knew I had a Baptismal certificate but no birth certificate and somehow I had misplaced the Baptismal certificate. It dawned on me that my dad said my mom had my adoption papers and just maybe my original Baptismal certificate. I called her and she reluctantly gave them to me. I did find my certificate and a lot of other great information. Most of it written in German.

Reading through the documents I found the name Klara Bezold and I wondered what life might have been like if I had never been adopted. When we got home I put the papers in a safe place and we tried to do a Google search for Klara's name but no luck. We then asked Monika's cousin who frequently travels to Germany for help. She also had no luck.

Fast forward to December 21, 2007 and Monika's post about the dream she had and the letter she felt compelled to write. We pulled the adoption paperwork out so Monika could verify Klara's exact spelling.
With all the comments pouring in on Monika'a post and some of you experiencing what I was going through, it made me re-think about aggressively seeking to see if we could find my birth mother. I always felt she would have been younger than my mother, Pauline. Pauline is 76 years old. I figured Klara was probably around 70-71.
We decided to do a google search again and I keyed in Klara Franziska Bezold and Monika keyed in Klara Bezold. While sifting through page after page I gave up. However, Monika kept at it and went deep into Google and found a telephone directory, Klara's name popped up a few lines down on the directory. Everything was written in German and we could not read or speak German.

Then, Monika said she recognized the word Ziel am Main and we grabbed the adoption papers and flipped through to see what Monika had seen. Sure enough there it was Ziel am Main. Monika thought it may be where Klara worked and Monika would mention it to her father. Monika and her family are Germans and her parents still speak fluent German and they still have their accent in tact.
On Christmas day we brought the paperwork and our laptop to Monika's sister Heidi's house who was hosting the family Christmas dinner.
Monika's dad looked at the paperwork and the listing on the internet and told us it was an address and a phone number and that it could indeed be her.
Could it possibly be? Monika really didn't think so, but, I felt the odds were with us.
We agreed that Monika's dad would call Germany and discreetly try and find out if the Klara Bezold listed was the same Klara Belzold born in 1926.
We thought if it wasn't her, then at best, maybe this Klara would end up being a distant relative of the Klara we were seeking. Maybe she could lead us down the right path.

The telephone number in the directory ended up not working, so for days we got nowhere. Enter Monika's cousin who looked at the number and told us to drop the zero as it is only there for in country calls. Monika's dad said he would try again on Saturday morning.
On Saturday December 29 my father in-law tried again and this time the number worked and a woman answered the phone.
Monika's dad asked in German if she was Klara Franziska Bezold, she told him that she was, he asked if she was born in 1926 and she said yes. Then he told her he was calling on behalf of man once named Holger Rainer Bezold....and immediately she cried out "That's my son..That's my son"!!!!