1010 Midtown Atlanta now has the distinction of being the only New Construction option for condo buyers in Midtown Atlanta. As we look at the Midtown Atlanta Market Report for 1010 Midtown Atlanta, April 2012, keep in mind that all inventory is not showing.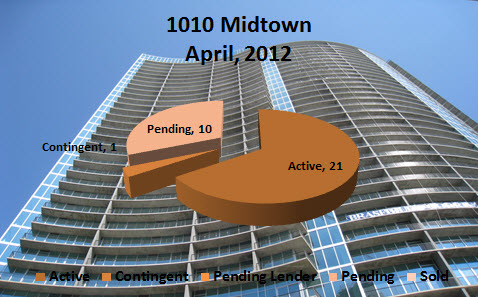 The 21 Active Listings showing in FMLS are certainly NOT all of the inventory that remains in this building. Developers just don't list all the homes that are available. But in these listings, they range from a whopping $1.6M for a 3 bedroom top floor do the lowest priced 1-Bedroom at $219,900
1010 Midtown Atlanta only has one home showing with a contingency at $419,900. 10 homes are Pending Sale, ranging from again, a whopping $1.6M to a low of $189,000 for a 1-bedroom home. (We'll be watching that $1.6M to see what it actually closes for!)
No homes in 1010 Midtown actually closed in April, 2012 and only one home sold in April, 2011. It was a 1 bedroom at $189,000.
Visit the 1010 Midtown Atlanta Communtity page here at MyMidtownMojo.com for more information on this last chance at new construction in Midtown Atlanta.
If you would like to schedule a viewing of the homes at 1010 Midtown, contact us and we will make all the arrangements.