It's too early for this to about 8 fan-bases of pro football fans...but to just about anyone else, we're counting down the days until pitchers and catchers report. In honor of Danny Thornton and Rich Dansereau's new group Baseball 101- here's a story I had on another outlet last season:
Baseball, like it or not, runs like any other business in America. Dollars and cents rule all. When we're not talking about how much money was shelled out for a player, we're wondering why players are crying for more money. And when we're not talking money, we're talking about performance enhancing drugs clouding baseball history as alleged users trounce all over sacred statistics and milestones. Wouldn't it be nice to be a kid again; back when the game was just nine guys trying to catch the ball before the other team could get runs across the board?

Last Tuesday I had the slightest taste of that.


For as long as I can remember him knowing anything about baseball, my 4-year-old has been the world's smallest fan of "Big, Bad" Bobby Jenks, the Chicago White Sox closer. I know, I know. "
Whose favorite player is the guy who looks like a taller version of King of the Hill's Bobby Hill?" It's funny but true. I give him a Jenks-watch style update at breakfast and let him know if Bobby pitched, if he got a save, or if, unfortunately, he blew one.

"Woo-hoo, Bobby Jenks saves the day again, Dad!" [fist pound] Something about him makes my son think he's just a level or two under the Justice League on super-hero radar.

In early April, I went scouring Ebay and StubHub for tickets as close to the White Sox bullpen as I could get. After hours of searching I found a pair of seats in the section next to the 'pen (albeit on the far end from it)... max bid in and won in a matter of days. The tickets shipped, and we're ready to play ball.

April 26th comes and rains all day. Doesn't rain like it usually does in Chicago-land. Doesn't rain like it sometimes does when it is really down pouring. Rains like the tropical rain forest had been dry for a month. Torrential downpours for hours and then clears up about three hours before gametime. Check the TV, the Web site, the radio, call the park: no word, no word, no word, no word. Alrighty, let's head up and see if they're going to play.

We were ten minutes from home when the local sports station reports that due to the excessive rains, the "Sodfather" Roger Bossard didn't want his outfield ruined. I look, grimly, into the backseat. "Hey buddy, bad news; they're not going to play today."

"I hate the White Sox, and I hate you!"

After a 10-minute discussion on how players can't play in the rain and on wet fields plus a trip to McDonalds I got him to lighten his stance.


"I hate the rain!"

At least pops is out of the doghouse!!!


Fast forward to late July. Tuesday the 24th to be exact. Dad has a morning client to meet at 9 and on the way out the door in his monkey suit hears someone stirring in bed. As I pop my head in I hear, "What do you want?" Followed by a laughing toddler and then as if he was hit by a bolt of lightning he sprouted from bed.

"The White Sox game!"

Hold on little buddy, let me go take care of some business and we'll be out of here by 11. After tending to duty, we packed up the car and hit the road. In roughly the same spot we heard our baseball-fate sealed two months previous; plop plop plop. Rain drops out of a perfectly sunny sky. Why Lord? Why must you do this to me?

"It's raining?!?!"


Matters not, we're notturning on anything but CDs the whole way up. No one's dropping a sudden rain storm report on me today. A while later, under sunny skies, we're walking into U.S. Cellular field together for the first time.

Stop for potty (more for me than him, or at least equal amounts). Check out the food and beverage stands on the concourse and find our seats for a proud-daddy photo op. Four rows up, left-field, Sox 'pen to the right, today's starter, Javy Vazquez playing catch in left field and players stretching throughout. "Going to be a great day for ball," I say.

"Let's get some food; I'm hungry"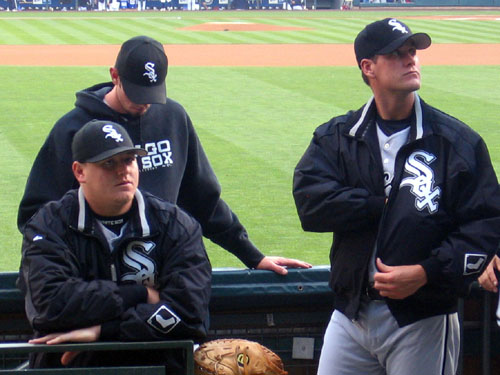 A hotdog and pop each, and the players are staring to file into the bullpen. As we finish chowing, No. 45 strolls within about 20 feet of the fence, and I pick up the lad. There he is! In stunned amazement, he never said a word, just watched him walk up the stairs to enter the pen, and when he got to the top he stopped for a chat. Time stopped with him. Security frowns on launching your kids at the players so we hollered with some other fans at him and got smiles and waves.

"That was Big, Bad Bobby Jenks. Awesome."

We're ready for the National Anthem. And.....Play Ball!

"How about those Dippin' Dots?"

Between inning one and two: ice cream break. I soon came to realize we weren'tthere to see the Sox host the
Detroit Tigers as much as we were there to see how much a kid who turned 4 three days earlier could consume. Nothing was more telling of this than when a cotton candy vendor came down, and he waved her on over to the roaring laughter of many around us.

The next big attraction? Not a Paul Konerko homerun to our right or a Josh Fields blast to the left but the scoreboard pizza race, of course! We had Pepperoni pegged as the winner; after all, he has a weekly spot at our dinner table. He, however, did not have quite the stamina of Cheese or Sausage who finished 1-2, in that order.

Sensing boredom we took another stroll around the concourse and swooped into one of the gift shops. Bored in there, too, he found a suitable foam finger for purchase and back to our seats.

"Alright, let's go home." But it's merely the fifth inning.

"I'm ready."

I coerced him into staying for the seventh-inning stretch. I figured by this time I'd know if the Sox were going to pull Vazquez from a great start and give the honor of blowing a lead to any number of qualified bullpen guys capable of doing the job.

...and its 1-2-3 strikes your out at the old ball game! Hooray!

"That's it then, let's hit it." He literally said this?? Come on!

After another potty break (again, probably more for me) and five coaxes to stay and see if Jenks gets in for the save we were outta there.

We were off after walking back to the car and wishing the Tiger fans that parked next to us a safe drive home (a few years ago that would have gone like, "I hope ya crash you dummies" before puking on their car, but now we set good examples!)

In the car we ditched the CDs and heard Jenks come on in the ninth for a 1-2-3 sealing of a 5-3 White Sox
Winner. [fist pound to the backseat]

Cue the postgame, kid's asleep, and dad gets a two-hour drive home through rush hour.

Ask him his memories of the game and you'll be regaled with tales of Pepperoni's poor training habits, understand the significance of picking the right foam finger and hear the most hilarious mocking of haaat dawg vendors, and oh yeah..............I saw Bobby Jenks.

A memory to be had and treasured (Yet again, probably more for me).
Any other proud daddy's are invited to join my Realtor Dad group and share your experiences- be it real estate, family related or both!