Riverstone,  Sugar Land
Description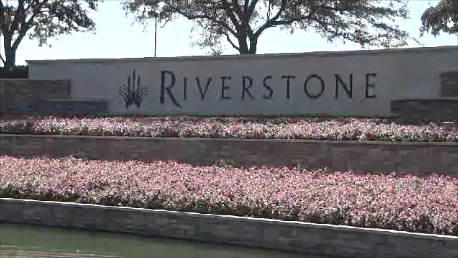 Riverstone, Sugar Land, TX, is one of the newest neighborhoods in Sugar Land...well, technically it is in Missouri City, which borders Sugar Land and is still zoned to Fort Bend ISD. This neighborhood has more than 250 acres of lakes planned...so waterfront homes are available. Another 500 acres in this neighborhood are dedicated to recreational complexes, open spaces, walking trails, and parks.
Residents of Riverstone, Sugar Land, enjoy two recreation centers with swimming pools, as well as playgrounds, lighted tennis courts, and  fishing pier. Riverstone is one of the best Sugar Land neighborhoods with prices ranging from $180K to $1.6M with $370K the average.
One of Riverstone's newest amenities is proving "paw"-pular – a 3.5-acre dog park, the first to open in the Sugar Land/Missouri City area. The facility has two leash-free enclosed areas, canine obstacle courses, a pet-cleaning station and more.
---
Video Tour
Check out this video tour of Riverstone, Sugar Land!
---
Photos
Here are some photos of Riverstone, Sugar Land...
---
Map
Click to activate this map of Riverstone, Sugar Land, Texas.
---
Schools
The following table shows the schools zoned to Riverstone, Sugar Land.
The Rating refers to the current state rating for the school which is either: Exemplary (4-star), Recognized (3-star), Acceptable (2-star), and Low Ranking (1-star).
The Score refers to www.GreatSchools.com ratings which give an overview of a school's test results based on a comparison of test results for all schools in the state. For the Score, the higher the number, the higher (better) the school's test performance.
NOTE: These ratings and score are as of October 2012 and may change in the future. School zones may change as well.
sugarlandtxhome
| | | | |
| --- | --- | --- | --- |
| School | Rating | Score | Address |
| | Exemplary | 9 | 4400 Austin Pkwy |
| | Exemplary | 10 | 4909 Commonwealth Blvd |
| | Exemplary | 9 | 3015 Settlers Way Dr |
| | Exemplary | 10 | 5440 Elkins Rd |
| | Acceptable | 7 | 9000 Sienna Ranch Rd, Missouri City |
| | Recognized | 9 | 3225 Austin Pkwy |
| | Exemplary | 9 | 4200 Elkins Dr |
| | Recognized | 8 | 7007 Knights Ct, Missouri City |
NOTE: Click a school link (above) and check the elementary school demographics to know the demographics of a subdivision.
---
How To Find Homes Zoned To Certain Schools
The only way to search for homes zoned to specific schools is to sign up for the Sugar Land Dream Home search and describe what schools you want to be zoned to. Only an MLS search set up by a Realtor can do this.
---
How do you know it's the
RIGHT PRICE?

Get the report!

    

Whether you are buying or a selling a home, one of the most important aspects of the process is THE SALES PRICE. But how do you know if a list price on a home is reasonable or not? You need to know some Sugar Land market statistics to make a WISE pricing decision.