The City of Belle Meade, located just 5 minutes from downtown off Broadway Avenue, is our first of many neighborhood spotlights. There's immediate access to Interstate 24, Interstate 440 and its competitive neighbor, Green Hills. It's a true Nashville jewel! Escape to a classy and trendy spot where impressive mansions are built on vast grounds of former 19th century plantations and fine crop ranches. Today it's a thriving community guided by the following core values:
Compassion – Empathy for the concerns of others
Courtesy – Politeness in our dealings with others
Creativity – Innovative solutions to problems
Fairness – Consistent and equitable enforcement of the law
Integrity – Strict adherence to moral and ethical principles
Respect – For the views, beliefs, rights, and dignity of others
Service – Prompt and competent service to others
Teamwork – Trusting cooperation with other employees and residents
Tolerance – Acceptance and support of diversity
Life here will give Beverly Hills a run for its glamour - Dixie style - and here's why...
SHOPPING
Belle Meade Plaza
Hill Center
CUISINE
Sperry's Restaurant (below)
Whitfield's Restaurant & Bar
Sportman's Grille
360 Bistro (below)
Le Peep
Michaelangelo's Pizza (below)
Bruegger's
Finezza Italian Bistro
Couva Calypso Cafe (below)
Portia Via Italian Kitchen
Dalts
Sonobana Japanese Restaurant
Anatolia Turkish Restaurant (below)
ENTERTAINMENT
Belle Meade Plantation (below, circa 1807) - Where 'history is still and made real'. Very popular site for weddings, docent tours, gift shopping, and there's even a winery on the premises!
Cheekwood Botanical Garden & Museum of Art (below, circa 1880's) - So much color! The estate is for the garden, the manor is for the art, and the newest addition is a restaurant called The Pineapple Room.
Loveless Cafe (below, circa 1951) - You haven't had country ham, fried chicken, fluffy biscuits and fruit jam like this before. Aside from Southern comfort food at its best, there's also a gift store, bike shop, BBQ pit and a backyard Barn for Music City Roots concerts and other events.
Chaffin's Barn Dinner Theater (below, circa 1967) - Supper plus a show. All at once. The essential ingredients are people, food, involvement and a spoonful of magic.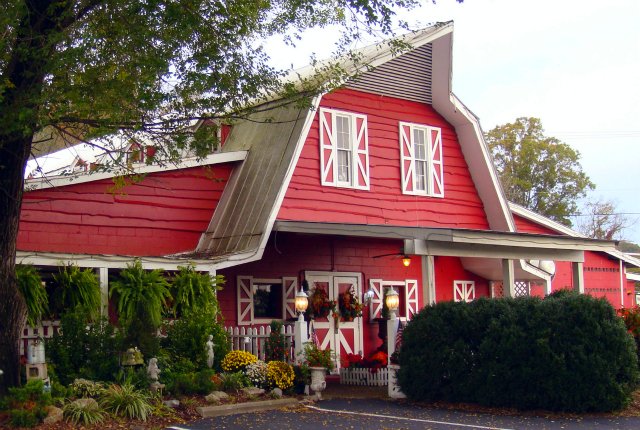 RECREATION
"Best Jogging Route" (below) - Right off the main Boulevard. Plenty of sidewalk and sighting opportunities along the way!
Percy Warner Park (below) - Nearly 3,000 luxurious acres of protected natural sanctuary, including dozens of picnic pavilions, horse walkways, hiking trails, miles and miles of scenic driveway, and a private golf course. From its highest point, the skyline can even be viewed!
Golfing locations - Hillwood Country Club, Harpeth Hills Golf Course, Belle Meade Country Club (below)
Interested in relocation? Many Belle Meade homes and others in surrounding areas are excited to be noticed!
Written by Stephanie Brake