PaintShop Pro is a photo or graphic editing program I have used for years, and continue to appreciate to this day. I like the program because it often allows me to do editing that would otherwise be accomplished with PhotoShop, but I find PaintShop Pro is more user friendly.
Here's a little trick you can accomplish with PaintShop Pro. The original photo used for this illustration is a picture taken a few years ago of my granddaughter on a dark green couch. The original photo was cute, but her left hand was concealed in the arm of the costume.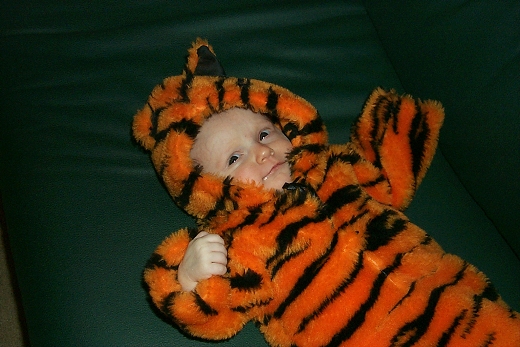 So, what to do? First I selected enough of that overly long sleeve to crop so it didn't look un-natural (that's why we couldn't see that hand in the first place. Then I selected the couch and made it a solid color, so I could select it more easily later and replace with a new background.
Once this was accomplished, the magic wand tool was used to select all the solid color background, inverted the image, and copied. Then I opened an image with the straw background, and pasted the new tiger baby onto it.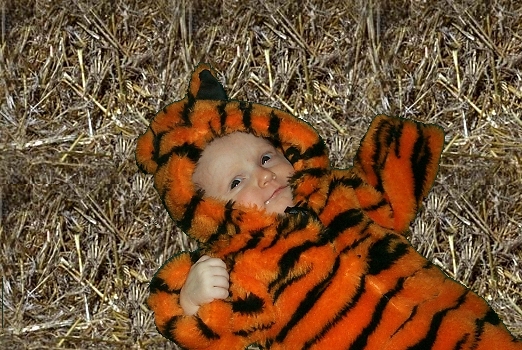 Using PaintShop Pro's toolbar, I chose the lasso tool, and drew an outline around the right hand, selecting it. Then on the toolbar selected "copy." I created a new file with a transparent background of a pixel size large enough to accommodate the copied hand. Then I "mirrored" the hand so it would become a "left" hand, and rotated it to look natural to the stance of the left arm it was to become attached to.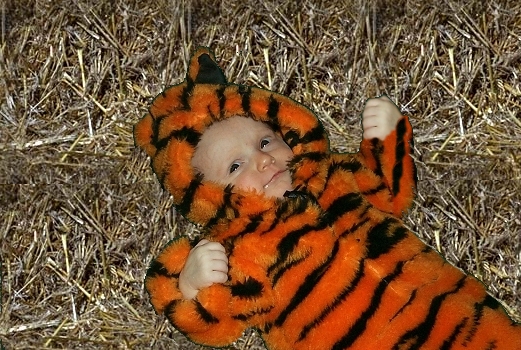 To try alleviating the "floating" appearance of the baby on the straw, you can lasso little segments of the straw, and copy them, and paste as new selections along the parameter of the baby. This makes it appear like the baby is more incorporated with the background.
I noted as an after thought the right sleeve had a cuff, that was not showing on the left arm, so I used the lasso again and selected portions of the right cuff, and pasted them onto the cuff area of the left arm. . .Voila' she now has a cuff too.