This has been a difficult week. Had I not been able to find some irony and humor in it, it likely would have been far worse.


My cat friend, Sybil died on Thursday afternoon. Sybil was 15, and shared home with me, and my dog Kodi, for most of her years. I have written about these two before. Sybil loved Kodi, but Kodi only tolerated Sybil.

Since Sybil has left us, Kodi has been quite depressed. On the first day, and part of yesterday, he was found much of the time, laying on the little grave created for her. I stayed close to home Thursday and Friday because of it. But he seems a little better today.

This morning it was time to get out of the house for a while and run a couple errands – a trip to the local Farmer's Market, and a trip to PetSmart for a bag of Kodi's dog food.
While I dressed, there were a couple phone calls. It's been hot here in Sacramento, so while talking to my cousin in Kansas, I reached for a lightweight blouse. Over the head it went. Again, the phone rings. While pulling on my socks, I giggled as I listened to a neighbor tell of a humorous adventure with another neighbor. I brushed my hair, and put on lipstick, feeling so proud I was able to multi-task, while gossiping on the phone.

With the last call ended, it was time to jump in the car and take off. I turned the car CD player to Dire Strait's "The Bug." I love the lyrics, which go:
Well it's a strange old game - you learn it slow
One step forward and it's back to go
You're standing on the throttle
You're standing on the breaks
In the groove 'til you make a mistake

Sometime you're the windshield
Sometime you're the bug
Sometime it all comes together baby
Sometime you're a fool in love
Sometime you're the louisville slugger
Sometime you're the ball
Sometime it all come together baby
Sometime you're gonna lose it all. . .


I'm half way to the Farmer's Market when I look down and notice I forgot to put on my jeans. My feet had socks, but no shoes. I'm sitting at a major intersection along Sunrise Boulevard without my pants on!

I had only once done something similar to this. But it had been years, and I thought the experience had been significantly traumatic enough, that I would never repeat it. Alas, I was wrong!

I consider myself better than average when it comes to multi-tasking. I'm not as proficient as Elizabeth Weintraub however. I've actually watched that woman run an escrow on her cell phone, while simultaneously managing a pair of chopsticks and sushi with her other hand, during lunch. I might be able to do it with a fork rather than chopsticks. But chopsticks – NO WAY!

Life is all about the lessons! You keep getting the same ole lesson, until you get the lesson, and then you get another lesson! It's simply how the universe works. My lesson today, was about navigating times of stress. Trying times require us to slow down, breathe deeply, and regroup! If we don't master the lesson, then we can easily find ourselves at a busy intersection - without pants on!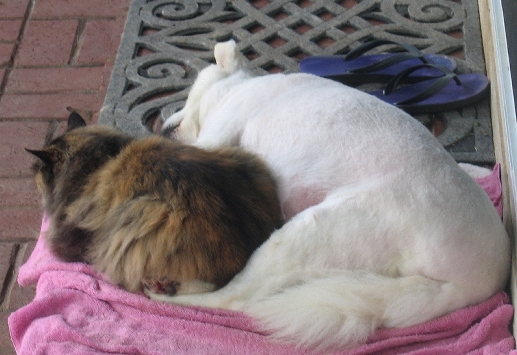 (Sybil and Kodi Bear sharing space during a storm)