Danville CA Home Values
The Harper Team ran a "Name That Price" contest when we first put our listing at 661 Logan Lane on the market in Danville CA (priced at $1,349,000). The home value contest was held during our initial broker tour where we invited several hundred agents in to preview the home. We asked them to fill out a short questionnaire to get their input on the property. One of the questions asked was to guess the price they thought the home would

actually close escrow for. To encourage their participation, and their true assessment of the market value of the home, we told them the winner who was closest to the sold price would win a very nice bottle of wine from The Harper Team's personal wine cellar (a bottle of 2006 Castello di Amorosa's La Castellana which is a Super Tuscan blend of Cabernet Sauvignon, Merlot and Sangiovese).
Congratulations Karen! - The winner of the contest was Karen Ward from Danville whose husband is also a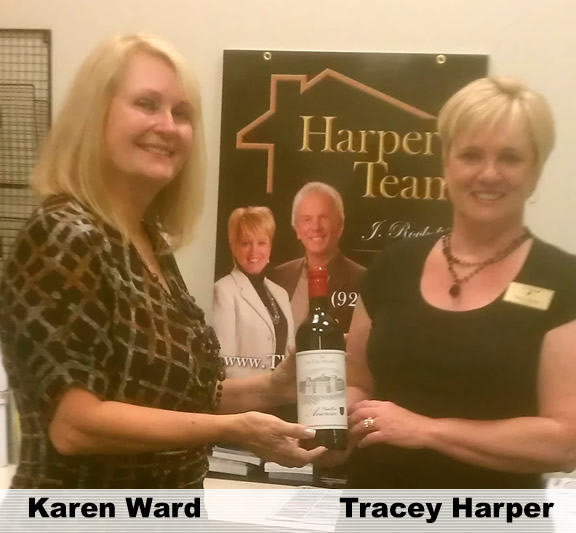 real estate agent. The interesting thing is that Karen guessed a price that turned out to be the median price of all those submitted and she was only $1,970 off from the price the home sold for.
A little background - The home had been on and off the market for several years with three other Realtors and Real Estate companies:
First listed for sale on 11/1/06 and taken off the market on 1/19/07 - No offers accepted and never went pending.
Relisted on 1/22/07 and taken off the market on 4/18/07 - One price reduction, no offers accepted and never pending.
Relisted on 9/21/11 and taken off the market on 5/31/12 - Two price reductions, no offers accepted and never pending.
Listed with The Harper Team on 6/9/12 at the same price as the previous listing and there were no price reductions. Received an offer in less than two weeks and went pending on 6/27/12 and closed escrow on 8/3/12 for $1,257,030.
While there are many factors that go into selling a home including advertising, marketing, Internet broadcasting, staging/presentation, negotiation, inspections, escrow details, etc., an important factor sometimes overlooked by agents is the importance of assessing the true market value of a home and being able to communicate this to the seller in a way that THEY can understand the reality of the market. While this almost always includes doing a market analysis of the "comps" (competitive properties) to the one you're selling, The Harper Team goes beyond this with continually evaluating market trends in the defined geographic and demographic area relative to where the property we are listing is located. By surveying other respected real estate agents and people in the industry we were able to show the market value that professionals felt the home was worth which reinforced our market analysis when presenting this to our clients.
For a free market evaluation of your home, contact Craig@TheHarperTeam.com - (925) 984-4910