When you are in the business of helping people find homes, you can't help but notice trends in the market reflecting the current mindset about desirable home features. Below is a brief overview of some observations which are being seen not only in our community, but nationwide.
Garages are another room in the house
Many people are using the garage as a multi-functional room. This saves space and makes sense for combining storage of utility items, extra pantry space, exercise equipment and an area for hobbies. Built-in storage cabinets with doors achieve a clean and uncluttered look that also protects the contents. Ceiling-mounted platform lifts are being used for even more storage.
It is not uncommon to see walls that are drywalled, textured and painted with a washable paint. Lighting is important everywhere in the home, and the garage is included if this kind of set up is used. Consider an epoxy coating for the floor, or even a garage mat surface, which creates a brighter, more attractive area that's easier to clean.
Loving the laundry room
Many of today's designers are looking at making this room larger and allowing it to handle multiple chores, which lets other rooms be smaller or even be eliminated.
Once again, storage is emphasized, with lots of cabinet space for everything from cleaning supplies to extra toilet paper. Space can be provided for just about any part-time use that doesn't require a large amount of square footage elsewhere, such as crafts or even a small home office.
A first-floor laundry room is preferable for pet owners who use that space for their dog during the day. A dog door to the fenced yard is a way to extend that space.
If the laundry room is a transitional space into the home, a charging station for phones and other electronics makes sense for many families. Leave the world behind and come home to coziness and peace.
Islands are still in because they make sense
Islands are very popular, and may incorporate a cooktop, prep sink or some other element that makes it easier for two cooks to operate at the same time.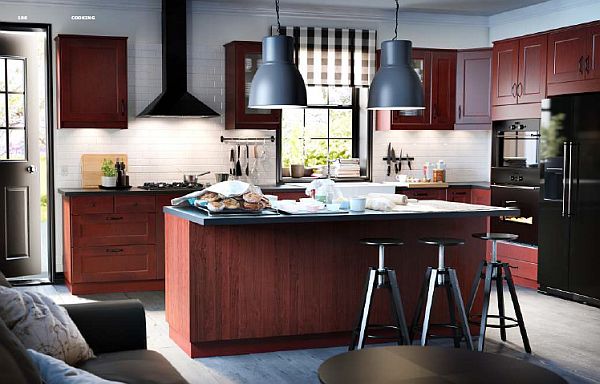 Eat-in kitchens remain popular, with space at the island or at a peninsula for eating. But what's definitely changed is the arrangement of the seating. Designers are getting away from the "picnic bench" seating arrangement, with all the stools or chairs in a row, which is not conducive to conversation.
That's being replaced by 90-degree seating, with stools along two or even three perpendicular edges of the island, the way they would be at a conventional table.
La Cocina
Popular style trends are either original period details: pure and unspoiled, or totally and completely modern. Herringbone floors; peach, pink or blue four-inch bathroom or kitchen tiles; art deco light fixtures and antique Wedgewood or O'Keefe & Merritt stoves are among the original features buyers crave. Here are essential items buyers demand in kitchens:
Professional 6-burner ranges & convection ovens
Whisper-quiet commercial exhaust fans & range hoods, ceiling or island mounted
Top-of-the-line built-in stainless steel dishwashers and Sub-Zero Refrigerators
Built-in wine coolers
Exotic stone, poured cement or granite counters
Cabinetry with all the storage bells and whistles, including glass door panels; maple or glazed or ebony colors are popular
Kitchen islands with an extra sink
Apron-front farm kitchen sinks or hammered-copper sinks
Floor-to-ceiling spice racks
Towel warmers and warming trays
Built-in microwaves with matching cabinetry fronts
Recessed lighting combined with hanging-pendant fixtures
Bathrooms
Buyers want lots of glass and stone
Vessel sinks of all shapes and sizes are mounted into antique dressers or Asian-inspired vanities
Brushed nickel replaces chrome options
Double-handle faucets are mounted on the walls and vanities float from the floor
Dual rain showerheads & hand-held sprayers for cleaning showers
Power-assisted, low-rise toilets and bidets
Motion light sensors
Trends in Floors, Walls and Windows
Buyers are moving away from carpeting, even in the bedrooms. If carpeting is used at all, it's used sparingly. Walls are either plaster, trowel textured or completely smooth. There is a purist movement to retain original windows from pre-WWII homes, refinishing, reglazing and replacing counter-weights or sash cords. Otherwise, the windows are dual pane. Here are popular flooring types:
Travertine, 16-inches or larger
Bamboo
Wood and exotic hardwoods such as Brazilian cherry
Cork