Before Pricing a Home to Sell in San Ramon California - Find Out What's Sold in the Neighborhood
Homeowners in San Ramon CA thinking of selling their homes may want to know what has recently sold in their neighborhood and how that will affect their home pricing and marketing strategies.
As professional residential Realtors, The Harper Team, can provide San Ramon homeowners with current real estate market statistics and trends in San Ramon and specific to any neighborhood. Knowing the local housing market is critical for being able to sell a home quickly for top-dollar,
Our Local Real Estate Market Report for San Ramon Homeowners will include general stats for the city of San Ramon, the stats for zip code 94583 or 94582, the stats for the local neighborhood and recent home sales in close proximity to the upcoming home for sale, and more.<!--more-->
As an example:
San Ramon California Home Sales Stats
| | |
| --- | --- |
| Active Listings (Homes for Sale) | 52 |
| Pending Home Sales in San Ramon | 195 |
| Sold in Last 30 Days | 75 |
| Potential Short Sales in San Ramon | 10 |
| REOs (Bank Owned Foreclosures) | 5 |
The average price San Ramon homesellers received in the last 30 days was just over 100% of their asking price. The average number of days on market for the 75 homes sold was 27 (4 homes were on the market for over 120 days (1 for 284 days)). In the last couple of weeks 5 new foreclosures and 3 short sales have come on the market.
0 Active Listings (Homes for Sale in Montevideo - Pine Valley - Davona - Broadmoor)
5 Homes show sale pending
2 Homes show sold in the last month
There are 0 REOs (foreclosure), & 0 potential short sales showing up on the MLS at this time in Montevideo - Pine Valley.
The 2 homes sold in the last 30 days received an average of 110% of asking price - a testament to the popularity of this neighborhood's location to local schools and the shortage of inventory in the area. One home was on the market for 46 days and the other for 5 days.
Stats for home sales activity within 1 mile of a specific address in San Ramon:
In the last 3 months there were 117 single family homes listed in this area:
10 are currently active
47 properties were pending
60 properties were sold
The average sales price was $697,008
the median sales price was $640,500
the average DOM (Days on Market) for active listings is 14, for pending listings is 27, and for sold listings is 26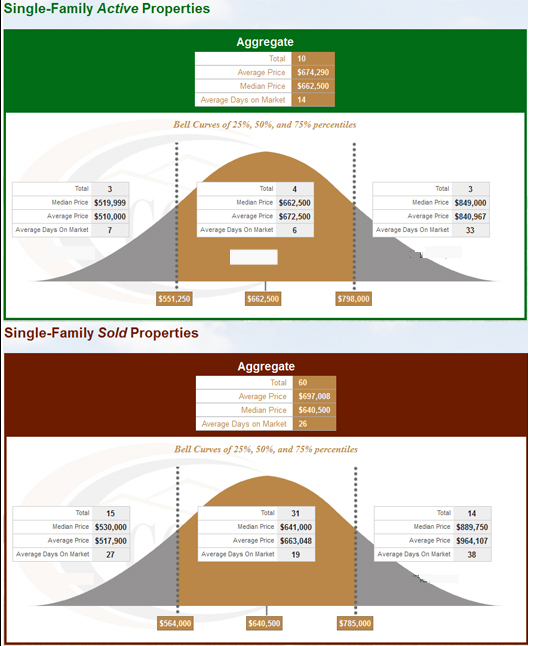 Closet 15 homes sold including sold price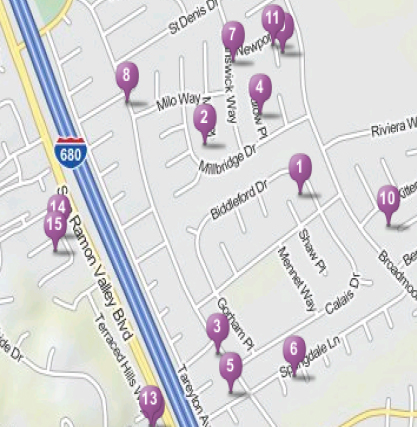 We can talk to you about homes in a neighborhood that have received a notice of sale - this helps to assess the potential for a short sale or foreclosure coming on the market and prevent you from being blindsided.
Email Craig if you would like to know more about what's happening with home sales in your San Ramon neighborhood (925) 984-4910