Halloween Events for 2012 in New Port Richey Area

Halloween Train Rides Friday at Central Pasco & Gulf RailRoad on Oct. 19, 20, 16, 17. At Crews Lake Park. 7-10pm. The kids will love it. See info here.

Zoo Boo at Lowry Park Zoo In Tampa is Oct. 18-24, 25-28. 7-11pm Fridays & Saturdays, 7-10pm on Sundays & Thursdays. $17/ages 12 and up. $14/ages 3-11. Check out the Zoo Boo website.

Sweetfields Farm Pumpkin Patch - Fall Maze and Scarecrow Contest. Open 10am-5pm on weekends.Check out their info. The website is slow coming up but worth the wait. Located at 17250 Benes Roush Road, Masaryktown. 352-279-0977.

Barktoberfest for your pets - costume contests for pets and owners. Silent auction, pet photography, raffles, food and music. Sunday, Oct. 28, 11am-3pm. At Harley-Davidson on SR 54 in New Port Richey, FL. See Barktoberfest information here.


The Haunted Angelus House Runs through Oct 31. 21 Rooms of horror. Angelus House is located at 12413 Hudson Ave. In addition to the main house, there is a haunted trail, pirates ship, hayride, and cemetery. Call 727-36haunt for info and tickets. Or their website. See last year's event.

Halloween in the Woods at Salt Springs State Park Oct. 26-27; 6pm-10pm. Facebook page Salt Springs State Park is located behind Gulf View Square Mall in Port Richey, FL.

The May-Stringer House in Brooksville is having a Halloween Fest on Nov 2 & 3, 7-11pm. The house is a real haunted house. Check out the May-Stringer House here.

Mall-O-Ween is at Gulf View Square Mall in Port Richey, FL on Oct 31 6pm-8pm for inside Trick and Treating, Magic Show, entertainment. Click for Mall-O-Ween info here.
Click to see a list of more events around Tampa Bay.

Have a Fun and Spooky Halloween and Stay Safe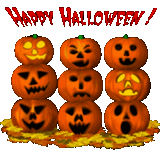 Recent News
A Real Life Haunted House in Brooksville-FL
Barktoberfest in New Port Richey FL- Tail Wagging Fun
3rd Annual Family Fall Festival at Longleaf in Trinity
The Halloween Trains are back! Spooky Fun
Halloween Events for 2012 in New Port Richey Area